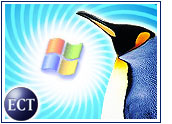 Adding another chapter to the epic debate over the relative value of the open-source Linux operating system, the Yankee Group has released a report stating that switching from Windows to Linux can be up to four times as costly and take three times as long as upgrading from one version of Windows to another.
Reductions in total cost of ownership appear to be greater among smaller firms but diminish greatly among large-scale enterprises, with 90 percent of enterprises with 10,000 or more users saying switching to Linux would be too expensive and time-consuming to be feasible.
The report also argues that IT professionals and decision-makers largely believe Linux is not necessarily a better alternative to Microsoft's Windows platform.
"Hype notwithstanding, Linux's technical merits, while first-rate, are equivalent but not superior to Unix and Windows," the report stated. It is based on a survey of 1,000 IT administrators and executives worldwide.
Clearing the Hype
Yankee Group senior analyst Laura DiDio said Linux can provide substantial cost savings but does so mainly at smaller firms that handle many customized software applications or in places where networks are being built from the ground up.
Moreover, many IT managers appear to be reluctant to shoulder the risks of adopting an entirely new operating system unless the gains are clear, DiDio told the E-Commerce Times.
"What we heard was that the undertaking was considerable and there would need to be equal payoff at the other end," she said. "By and large, companies aren't convinced they'll get enough back to justify the time and expense of making the change."
One of Linux' appeals has been from a security standpoint, particularly because Windows machines have been battered by a string of targeted worm and virus attacks in the past year. Even so, however, administrators seem unwilling to part with networks that have been through a number of security crises and have been updated and patched as a result. After all, a new platform may prove to have its own flaws.
Round and Round
Debate over the true cost of Linux ownership has been raging for years, with little evidence that it ever will be settled in a definitive manner. Many analysts treat back-end server deployments and desktop deployments of Linux separately, but they still cannot agree on whether Linux will save every potential user money.
Research firm Gartner said last fall that it believed switching to a Linux desktop would not make sense from a financial standpoint for most companies, because breaking free of Windows would require retraining and other expenses. Previously, Microsoft had commissioned a study that it said showed Windows costs as much as 8 percent less to own over time than Linux in certain situations.
Price Wars Coming?
However, Gartner analyst John Enck told the E-Commerce Times that Linux is poised to see increased price competition drive down the cost of large-scale deployments as more vendors highlight their open-source offerings and firms like SuSE and Red Hat increasingly compete for the same customers.
"The customer will be in a stronger position as they have more choices for high-quality Linux from top-name vendors," Enck said. "We'll start to see more value-added elements as well, such as service contracts" that may further reduce the cost of owning Linux, he added.
Even so, the new Yankee Group survey found Windows will hold its server market lead for at least a few more years, despite what it called the "undeniable" momentum of Linux. The news is even better for Microsoft's position on the desktop, with the Yankee Group predicting Linux desktop adoption will not make even a "perceptible dent" in Windows' market share before 2006.