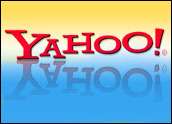 Yahoo has begun testing a program to deliver graphics-laden, banner-style ads to mobile devices, as it bids to advance the still fledgling market for mobile advertising. PepsiCo is among the first advertisers to sign up.
The advertising will fit in the smaller screens of handhelds; in some cases, the make and model of the cell phone will trigger the delivery of a customized ad.
Yahoo did not disclose pricing but said that it would be based on page views. The ads will reside on the Yahoo Mobile home page, and in certain news stories and mobile e-mail messages, the company noted.
The advertising will start to appear before the end of 2006, Yahoo said, emphasizing that it was testing the technology with static images at first. Animations or video could be added in the future.
Early adopters may feel a huge boost if they can deliver more robust advertising on the mobile platform. Last year, consumers bought more mobile phones than PCs. In addition, both computing and entertainment are moving into the mobile realm, thanks to high-speed wireless networks, faster handhelds with color screens and improved Web capabilities.
Clicking to Win
The ads measure 150 by 21 pixels and appear at the top of the mobile browser window, according to Yahoo. Users can click on an ad to view a sponsored Web page. The ads will include either click-to-call functionality or an easy method to contact the sponsor.
The future of mobile ads may hinge on location-specific marketing that uses short-range wireless technology to beam special offers to mobile users when they are in range of a store, mall or other location.
The mobile ad market has grown slowly, however. The major Web companies have focused on delivering text ad messages as part of search results rather than trying to tackle graphical ads, which can hog bandwidth and may bog down performance on slower devices.
Nevertheless, numerous companies are laying the groundwork for becoming mobile ad players. Last week, for instance, Google launched a revamped version of its Gmail Web-based e-mail product for mobile devices, promising a cleaner user interface and faster synching with portable devices.
The prize is likely a multibillion-dollar market that is beginning its growth trajectory.
Getting Personal
The mobile ad market in the U.S. and Europe will grow to more than US$1 billion in annual sales by 2009, as the proliferation of 3G networks and more advanced handsets enabled the delivery of a variety of media, including video ads, predicted a recent report from media research company Visiongain.
Marketers are enthusiastic about the prospect of sending ads to mobile phones — not only because consumers can be targeted according to their location, but also because so many consumers carry their cell phones 24/7.
"The mobile phone is a very personal device," said Visiongain analyst Marcia Kaplan. "It affords advertisers an opportunity to present very targeted and time-sensitive information that is of interest to the user. That is a key advantage. With customer permission, advertisers can collect valuable demographic and behavioral information to hone the marketing message."
Yahoo expects mobile advertising to expand somewhat slowly during 2007 and become an accepted mainstream technology in 2008.
Mobile ads are an inevitable part of the cell phone's evolution as the "third screen," after the PC and the television, said telecom analyst Jeff Kagan.
"Consumers will tolerate ads as they have come to tolerate them on the Web," Kagan told the E-Commerce Times. "But there will also be an expectation that the ads will be relevant and done in a way that doesn't disrupt a user's ability to communicate with their phone or device. Marketers and the advertising companies will need to proceed with care."