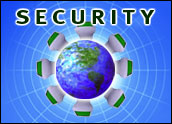 Yahoo said Tuesday it would join forces with PC security firm Symantec to provide a co-branded Web security service, an offering that mirrors those from other Internet firms.
The service will give Yahoo customers the option of buying a Web-delivered version of Symantec's Norton Internet Security software at a discounted price of US$49.99, $20 below the typical price for the suite.
Simple Protection
"Internet security is important to our users," said Stephen Miller, director of product management at Yahoo. "Simple, dependable Internet security solutions help give people the peace of mind to keep on enjoying everything they love about the Internet and Yahoo."
The strong Norton name will act as a "comfortable security blanket" for users of the portal, he added.
The co-branded service will feature Norton AntiVirus and Norton Personal Firewall, which filters spyware and adware and proactively scans e-mails and instant messages to search for viruses and other threats. Yahoo customers can sign up for a free 30-day trial of the service.
The move comes as the PC security business begins to gird itself for what is expected to be significant changes as Microsoft's Windows Vista hits the market next year. That platform will have many built-in security features that could dent sales at some security firms.
Meanwhile, more security software and services are being delivered via the Web rather than as packaged software or software loaded onto a PC at purchase.
Common Foes
The two firms plan to market the new service across Yahoo's network, including within its mail service and inside other Web tools. The companies will also develop a co-branded toolbar that will have automatic links to more security resources, such as spyware.
The two companies are no strangers, with Symantec having provided the technology that Yahoo uses to scan millions of e-mails going into and out of its Yahoo Mail Web mail service each day.
"Symantec and Yahoo share a vision of protecting consumers online," said Enrique Salem, group president for consumer products and solutions at Symantec. "Internet security is a necessity for consumers today."
Microsoft, in particular is a common foe of both companies, with Yahoo competing with Microsoft's MSN, and Symantec worried about getting squeezed out of the PC security space by the arrival of built-in security features and Web-based tools for securing and repairing computers.
Follow the Leaders
Others have recognized the same trends and opportunities as Yahoo. AOL, for instance, is testing its own online security, disaster recovery and ID-theft protection service through a partnership with McAfee. Known as Total Care, the offering launched in test mode earlier this month and is expected to come with an added feature of in-home help for users with severe PC problems.
Microsoft's OneCare, which launched in June, is also expected to have a significant impact on the space. The bundle of services, which also costs $50 per year, is part of a major push by Microsoft to deliver more software and services through the Web, including, eventually, versions of its most popular software applications.
The Web-based services, including Yahoo's offering and Microsoft's OneCare Live, have the potential to make the security market far more competitive, according to Gartner analyst Neil MacDonald.
"The additional choices benefit the consumer and should result in more robust security for PCs," he said.
After OneCare launched, both Symantec and McAfee said they were developing similar Web-based protection suites, with a focus on next-generation security issues, including identity theft.