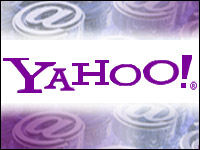 Signaling its intention to refine its social networking tools and leverage them in its search war with Google and others, Yahoo said Tuesday it had hired a well-known data mining expert to focus on ways to improve social search.
Yahoo said it hired Dr. Raghu Ramakrishnan into the newly created position of Vice President and Yahoo Research Fellow. He will work out of Yahoo's Sunnyvale, Calif., headquarters, report to the company's head of research and focus on ways to better link computer-aided and human Web search.
"Raghu is a world-renowned expert in database systems and data mining with a passion for social search that perfectly aligns with Yahoo's vision for the future," said Prabhakar Raghavan, Yahoo's head of research. "The combination of Raghu's expertise and Yahoo's huge user base and data assets will provide tremendous insight into new ways to create value for our users."
Most recently, Ramakrishnan was a professor at the University of Wisconsin-Madison, where he founded the Data Mining Institute. Yahoo said he would leverage various skills, including knowledge of data mining as well as an interest in social networking to enhance the overall Yahoo user experience.
The hiring underscores "our commitment to building the new science of the Internet," Yahoo Chief Data Officer Usama Fayyad said. Ramakrishnan joins "a rapidly growing assembly of the leading thinkers and scientists in key fields of this new emerging science," Fayyad added.
Brain Power
For Yahoo, the hiring is a chance for it to highlight its cutting-edge research and its ability to hire the best and the brightest, something that has become closely associated with main rival Google.
In addition to his teaching and research work, Ramakrishnan in 1999 co-founded QUIQ, a company that pioneered online question-answering communities as well as online collaborative customer support and knowledge management communities, with its technology and approach used by companies such as Business Objects, Compaq and Sun. He also co-authored a book on managing databases.
He said Yahoo offers him an "open environment for innovation" and a chance to work alongside other experts in data mining, microeconomics and other fields.
"This is the perfect opportunity to apply my interests and experiences in social search and database management to help people connect to other people and to the information they need, making the Web a natural extension of their everyday communities," he added.
The hiring emphasizes the potential value that Yahoo and other portals and search engines see in the massive store of information they have about their users — how they use the Web, when they use it, where they travel and how they get from one destination to another, what prompts them to make purchases or sign up for new services.
Good Fit
Yahoo in particular has opportunities to get a better handle on how people interact with social-style services, search engine watch editor Barry Schwartz said.
"I am excited by what this can potentially mean for social search," Schwartz said. "Yahoo has so many properties that can be tightly integrated with social search," he added, such as Flickr, Del.icio.us, Yahoo Mail, Yahoo Video, Web search, desktop search and Yahoo Groups.
All major search engines are moving toward a combination of social and algorithmic search, though the best way to blend the different approaches is still being explored, noted Forrester Research analyst Charlene Li.
"People want a more collaborative and intuitive search experience, and everyone is working on how to produce that experience," she said. Yahoo, she added, is particularly well-positioned to take a lead role in the trend because it has invested heavily in developing its own social networking and community sites and in buying other successful sites.