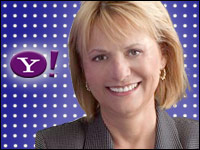 Yahoo on Wednesday announced a leadership reorganization that moves Carol Bartz out as CEO and replaces her in the interim with Timothy Morse, the company's chief financial officer. The board has also formed a new executive leadership council populated by key senior executives to support Morse in day-to-day operations until a permanent CEO is appointed.
Further, the board initiated a comprehensive strategic review to position the company for further growth.
The market welcomed the move. Yahoo's stock rose about 4.5 percent following the news.
Bartz, who took over in January 2009, instituted cost-cutting measures, including layoffs, that were meant to reverse the company's decline. However, her efforts generally were met with investor criticism.
Yahoo's board has started its search for a permanent CEO and expects to hire a nationally recognized executive search firm to help identify candidates for the position.
Yahoo did not respond to the E-Commerce Times' request for comments by press time.
The Yahoo Market No-Show
There was a time when Yahoo was the giant, and Google was a dream in the heads of two college kids. However, as Google ascended, it became known for a continuous stream of innovation and reinvention, while Yahoo was slipping into irrelevance. Bartz was brought on board to change that.
"The board just felt that she didn't do enough," Zeus Kerravala, senior vice president of global enterprise and consumer research at the Yankee Group, told the E-Commerce Times.
"Look at what she did while Google was doing Google Docs and buying Motorola's multimedia group. Yahoo hasn't been doing much," he said.
"What is the most innovative things they've done in the last two or three years?" Kerravala asked rhetorically. "Yahoo has a great platform, but Google has become a part of everyone's life today."
CEOs count. One of the great examples is Apple, which foundered in between Jobs' stints as leader.
Yahoo's board made the right move in ousting Bartz, in Kerravala's view.
"Changing Yahoo requires a CEO who acts more quickly," he said. "Apple was down one time and look at them now. You need the right leadership in place. She didn't bring the right leadership. I think the board did a good thing. Ever since Microsoft didn't buy them, they've been in a quandary."
Where's the Vision?
Yahoo seemed to lose its grip on the steering wheel in recent years. Any company — GM is a prime example — can get lost in the woods, but when you operate on Internet time, a couple of months out of focus lets a slew of competitors get the upper hand.
"Turning around a technology company is no easy task," Azita Arvani, principal of the Arvani Group, told the E-Commerce Times. "Carol faced a big challenge when she took over in 2009. However, in the dynamic world of information and communications technology — especially the Internet companies — the classic turnaround formula of focusing on a few areas of current success and cutting costs is not sufficient."
It's critical to have a vision of where future growth will come from, and a company has to invest in strategic areas while saving the current business, said Arvani. "If you are gutting out the search infrastructure, then where else are you creating a technological edge to differentiate and grow in the future?"
One major misstep in recent years was Yahoo's failure to embrace mobile applications just when everyone's phones were discovering the Internet.
"I was disappointed that Yahoo abandoned their mobile work," said Arvani. "Yahoo was on the forefront of mobile for a long time. Then, just when things started heating up in mobile, with the arrival of modern smartphones, Yahoo pulled back on their mobile initiatives. That was a real missed opportunity."
Time to Get Radical
Yahoo has slipped so far off the radar, it's hard to tell what the company is actually producing. Search? News?
"The sad part is, in Yahoo's current state, it's hard to judge success or failure. It would take truly phenomenal success or terrible failure to stand out," Steven Savage, technology project manager and Geek 2.0 blogger told the E-Commerce Times. "Bartz needed to take more risks. Yahoo has to either be completely re-envisioned, tighten it's focus considerably, or try and ape — and overtake — others. None of those tasks are easy."
That said, the board's move looks desperate and flailing, Savage remarked.
"Bartz was in a very no-win situation. Yahoo is in its death throes, as only radical strategies will save it, [but] I don't see those getting much buy-in," he said. "Yahoo might use this as a chance to get radical — I hope it does."