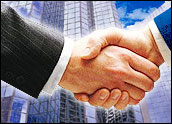 Yahoo and Microsoft's MSN have agreed to work to make their instant messaging platforms more compatible, a bid to set aside competitive differences to tackle the continued dominance of America Online's own chat platform.
The companies said their agreement represented the first time two major IM providers had agreed to make their products more compatible and said that users of MSN Messenger and Yahoo Messenger would soon merge into the largest consumer IM community in the world, with as many as 275 million combined members.
A New Era
Messaging across platforms is one of the features most often requested by users, the companies added.
The new features, including the ability to see a user's presence across platforms and to share emoticons and swap buddy lists, should be available to most users of the two IM products sometime in the spring of 2006. Voice over Internet Protocol (VoIP) chat will come at a later date.
"This is truly a turning point for the IM industry," said Yahoo CEO Terry Semel. "We believe our agreement with Microsoft will help usher in a new era of IP communications."
His counterpart, Microsoft CEO Steve Ballmer, said making IM platforms work together is "the right thing for our customers, our businesses and the industry as a whole."
Users and software developers alike have long clamored for greater interoperability among IM platforms, but the major companies, including AOL and Microsoft, long resisted pushes to create a single universal standard and even tried temporarily to block new technology, such as Trillian, that linked various disparate platforms.
Davids and Goliath
Many analysts were surprised last year when Microsoft's settlement of the Netscape anti-trust suit with AOL did not include an agreement to make MSN Messenger work with AIM, AOL's market-leading instant messaging platform.
While Yahoo continues to lead the portal race, it is finding itself battling with Google and others in various online services markets and is constantly updating its services to lock in more users and prevent them from jumping to a rival platform.
Meanwhile, Forrester analyst Charlene Li said that AIM is the foundation for AOL's own push into the portal space. The company believes that the millions of users of its IM tool — it holds about 56 percent of the market worldwide, according to data from the Radicati Group — can help make it a serious player in the portal space.
Li said that instant messaging and e-mail are seen as key parts of the overall portal picture because users of those tools are less likely to jump to a competitor because of the hassle of changing addresses and screen names and the lack of portability of buddy lists and addresses. "That may become even more important as voice merges into the picture and the portal is as much a communications hub as an entertainment or information hub," she added.
Still Chatting
In fact, many analysts say the deal is as much about preparing for the next generation of communications tools as it is about competing with AOL for today's IM users. The purchase of Skype by eBay and other moves by Google and others to lay the groundwork for IP voice services point to a larger trend of which the Yahoo Microsoft deal may be just a piece of.
At some point, AOL could also become part of a three-way communications hub that enables free calling among some 100 users of existing voice chat technology, analysts noted.
"The race is on," said VoIP consultant and blogger Alec Saunders. "Skype is already miles ahead, with as large a community of users, a commitment to support third party applications, and a larger community of developers."
Microsoft, meanwhile, is said to still be considering strategic partnerships or other deals with Time Warner to blend or combine AOL and MSN. Published reports this week say talks to that end, which were on hiatus, have resumed recently. Analysts said the deal with Yahoo did not preclude a major agreement between AOL and MSN being forged.
Meanwhile, the Yahoo partnership was the second announcement in as many days that could beef up the MSN portal. Yesterday, Microsoft said it had settled its long-simmering anti-trust dispute with RealNetworks, a deal that will integrate Real's Rhapsody music service and an online games portal into MSN.