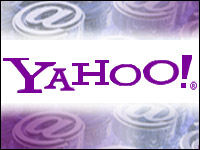 Bidding to keep its edge in the rapidly evolving search space, Yahoo has started to test what it calls a "contextual" search function aimed at helping users find more relevant results.
The service, known as Y!Q, is now available in beta form. Users can download a "demo bar" from Yahoo and also use the feature on the Yahoo News site.
Instead of using terms typed into a search box, the service asks users to highlight terms on a page they are currently viewing and then click a "Related Search" button displayed on the browser. Or, it can be used to search for a host of information related to a single search term.
For example, searching for a musical artist would bring up pages with lyrics, band biographies and other related information.
Code To Be Released
Yahoo also said it would release the coding that makes the service work to Web developers so the feature can be embedded into text-heavy sites.
The feature is being trotted out as the search space waits for the dust to settle from the formal entry of Microsoft into the arena after the software giant released the final version of its MSN Search earlier this week.
Though it has already been the subject of mixed reviews, MSN Search is seen as a major development in that it arms three major players — Yahoo, Google and Microsoft — with their own competing and proprietary search technologies.
Search Engine Watch Associate Editor Chris Sherman called the feature "an interesting tool with a few rough edges," ones that will likely be smoothed out as it moves through the development process.
Sherman said Yahoo decided to launch the tool before it was fully developed in order to be able to include feedback from actual users in the final version.
Second Nature
The Opera browser has a similar built-in search feature, which can be called up by clicking or highlighting words on a Web page.
In fact, analysts say that the new feature hints at where search is headed — toward ever-tighter integration with the overall Web experience. The goal is to make search second nature to users, Forrester Research analyst Charlene Li told the E-Commerce Times, and in doing so to prompt them to seek out results, and the advertising that comes along with it and drives revenue for the search companies, more readily.
For now, that integration relies heavily on the browser, with a flare-up in the search wars already brewing over access to alternative browsers: The Firefox default home page is the Google search site and the Yahoo tool has three different plug-ins specifically designed for the same browser.
"In the end, it's about loyalty," Li said. If users can search without opening a new window or even typing into a search box, they're less likely to think about the search engine providing them the result. "The ability to deliver ads over and over to people is what advertisers are paying for."
Three Ring Circus
The entrance of Microsoft into the search wars is being seen as a significant event, but most analysts think its far from certain that Microsoft can put a serious dent in Google's and Yahoo's impressive market shares.
Google and Yahoo both enjoy strong brands with consumers, noted Jupiter Research Vice President Michael Gartenberg, and both have strong cultures that enable constant innovation that will keep up with the millions being spent on search, and soon on marketing, from Microsoft.
In fact, Google and Yahoo have been especially active recently in launching new features and products, such as desktop, local and TV video search capabilities.
For that reason, and because the two companies have large and somewhat loyal bases of members, if Microsoft does make inroads, it will be over the long run and not simply because MSN Search has arrived, Gartenberg told the E-Commerce Times.
"Yahoo and Google are going to keep doing their thing," he said.