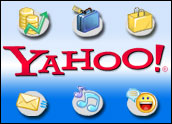 Yahoo scored another victory in its battle with Google Thursday when Hewlett-Packard said it would pre-install the Web portal's search engine tools on its desktop and notebook computers.
The deal gives Yahoo access to prime real estate inside the machines from the world's No. 2 PC maker by volume, and comes close to matching an earlier deal struck between Google and Dell. Yahoo also reached a similar agreement to load its tools onto computers made by Taiwan-based Acer, which owns a small fraction of the U.S. market but is growing rapidly in other parts of the world.
Part of the Package
The HP deal calls for Yahoo to be set as the default search engine in all PCs loaded with Microsoft's Internet Explorer 7, and the installation of a co-branded toolbar customized for various regions. PC desktops will also feature one-click links to Yahoo's various Web tools, including search, Web mail, News and Finance.
"Partnering with a company like HP, that has been a leader in its industry for many years, puts Yahoo in an excellent position to be able to distribute our most widely adopted offerings," said Yahoo's COO Dan Rosensweig. "This relationship is an important component of Yahoo's overall strategy to partner with leading global brands that will enable us to further extend our products and services to the world's community of Internet users."
Such deals are growing in importance as Microsoft prepares to roll out Windows Vista and the new version of Internet Explorer, IE7. IE7 will have the search engine default set to use Microsoft's new Microsoft Live Search, but that setting can be changed at the PC factory to use alternative search engines.
Regional Customization
What Yahoo tools will be packaged in PCs will vary from region to region, the companies said. For instance, all PCs sold in Europe will have a Yahoo start page that appears when they open a Web browser, and PCs sold in the U.S. and other parts of North America will feature a co-branded toolbar as well as the default setting in IE7.
The toolbar will give constant access to the Yahoo search engine and provide instant notification when Yahoo Mail messages arrive. It will also come with anti-adware tools.
The companies said the toolbars and start pages would be included immediately with new PCs, and the default IE7 settings will take effect when PCs are shipped with Microsoft's new browser included.
Dell and HP have traded the top PC maker title several times in recent years. According to recent data from research firm IDC, Dell held on to the lead in the second quarter, with 19 percent market share, or about 10 million machines shipped. HP was second with 8.27 million units, or about 16 percent market share.
Sharing Space and Revenue
As with all of the past deals of this ilk, the financial details were not disclosed. However, it's assumed that both Google and Yahoo are promising PC makers significant guaranteed revenue streams in order to land the desktop real estate.
Whether the deals actually make sense financially for the search engines and portals is still up for debate. Even when they drive traffic to the sites, there is no guarantee that traffic can be monetized. Yahoo has been lagging in how it monetizes traffic despite the vast number of visitors to its Web properties. Google leads the search and paid search markets.
Still, being the default search engine is a powerful benefit for the companies, especially since the vast majority of users never change their default settings, potentially meaning they will remain users of the same search engine for as long as their PCs are in use.
The desktop forays for Web services companies could have potentially bigger long-term consequences, especially if the companies try to move into the software arena heretofore dominated by Microsoft. Google has already begun to offer some free Web-based software for word processing and collaboration, for instance.
For HP, the Yahoo deal is likely a welcome distraction as the company continues to deal with the fallout from its boardroom spying scandal. It could also be a significant competitive edge, even though the payments from Yahoo only amount to a few dollars for each PC sold, Endpoint Technology Associates analyst Roger Kay noted.
"Given how much margins have been squeezed as Dell and HP and others whittle every extra bit of cost out of the PC-making business, those payments could be a boost to the bottom line," Kay said.