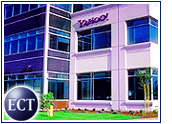 As it steps up efforts to tap new revenue streams, Yahoo! (Nasdaq: YHOO) announced Thursday that it has created an executive management position to oversee its corporate business offerings.
The Sunnyvale, California-based company said it appointed James A. Fanella to serve as senior vice president for business and enterprise services.
Fanella — who most recently was group president and general manager of global services for CommerceOne (Nasdaq: CMRC) — will direct development and strategies for Yahoo's online broadcasting and corporate portal offerings, known as Yahoo! Broadcast and Corporate Yahoo!.
"The business and enterprise services division is playing a significant rolein Yahoo's strategic direction," said Fanella, adding that the company identifies its broadcast and private portal services as "key growth areas."
Fanella said that the division is working on delivering "more efficient communications capabilities for corporate customers," and intends on becoming a strong contributor to Yahoo's bottom line.
The Replacements
With net losses posted in three straight quarters, Yahoo! has seized on a number of opportunities this year to include more consumer fee-based and corporate-targeted services.
The company says that it plans to focus on three key areas over the next year, including striking more partnerships and joint ventures with major corporations for content or distribution services, possible future acquisition, and innovation in the customer personalization arena.
Yahoo! has already begun meeting some of its goals. Last month, it reached a multiyear agreement with Sony that encompasses online movie marketing, e-commerce and Web site development. As part of the deal, the two companies will develop a co-branded Web site that Yahoo! will host.
In a similar vein, Yahoo! has also inked a deal with travel e-tailer Travelocity to create interactive multimedia broadcast centers, and partnered with Consumer Reports to offer product ratings andbuying guides on its shopping site.
The Proclaimers
On the music front, Yahoo! has joined forces with Duet, the subscription-based music service being developed by two of the largest record labels. In addition, Yahoo! acquired onlinemusic provider Launch Media earlier this year.
The portal giant has made incremental progress in diversifying its revenue streams. Last year, advertising accounted for 90 percent of its US$1.1 billion in revenue. However, that number dropped to 82 percent in the first half of 2001.
Yahoo! has said that it is expects revenue from its business and premium services to generate 20 percent of its total revenue by the end of the year.
The Doors
The addition of Fanella comes after a number of executive departures from the company, including senior vice president of international operations Heather Killen, Yahoo! Canada managing director Mark Rubinstein, Yahoo! European operations head Fabiola Arrendondo and Yahoo! Asia vice president Savio Chow.
In April, Yahoo! appointed Terry Semel as its new chairman and chiefexecutive officer, replacing Tim Koogle who stepped aside in March. The Internet giant continues to search for someone to head its sales andmarketing business, following the departure of Anil Singh in March.