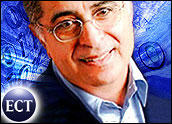 Even the current upbeat forecasts for continued strong growth in estithe Internet advertising sector undermate its true potential because they fail to account for the impact of Web-based video ads, mobile Web ads and social networking opportunities, Yahoo CEO Terry Semel said Tuesday.
Speaking to an audience at the Internet Advertising Bureau's Engage 2006 conference in London, Semel said most forecasts focus on graphical and text-based ads and do not adequately capture the impact from video, which he said will transform the online advertising market and become "a major factor on the Internet."
"It will be ever-present throughout the Internet, and it will find its proper way to advertise," Semel said. "Whether it's mobile or whether it's video or whether it's more and more community, these factors have not gone into those numbers.
"We think the actual growth potential of advertising online is really being understated," he added.
The Internet Advertising Bureau recently estimated that online ad sales surpassed US$4.2 billion in the third quarter, a growth rate of 33 percent over the same time last year and the highest quarterly spending levels on record.
Smaller Slice of Bigger Pie?
For Semel's Yahoo, the potential for a much greater advertising market is a double-edged sword. While the rising tide of online ads would lift many different boats, including Yahoo's, in many of the areas that Semel cited, the portal is seen falling behind rival Google.
For instance, Yahoo has yet to make a major social networking play while Google purchased video sharing site YouTube and struck a deal to deliver ads to News Corp.'s youth-oriented social networking site MySpace.
One area where Yahoo is believed to be in the lead is in the delivery of Web-based ads to mobile phones. In fact, on Tuesday, Yahoo announced it would partner with UK mobile carrier Vodafone on an ad-to-phone plan to be launched early next year.
That announcement came a day after Google CEO Eric Schmidt said mobile ads had the potential to one day enable free cell phone service.
Mobile and video are both still "infant" online ad models with unknown potential for monetization, according to Blogging Stocks analyst Brian White. In fact, Web marketers need to proceed with caution because those formats differ significantly from text and banner ads, he added.
"Web search advertising works because it is generally unobtrusive," White said. "Can these models just transfer themselves to the video market and the mobile Web browsing market?"
Marketers must "proceed with caution" as they seek to expand their ad toolbox to include more intrusive formats that interrupt the surfing experience, since it's not yet proven users will tolerate such efforts.
Tapping the TV Well
eMarketer recently predicted online video ad spending would grow more than 80 percent this year and close to 90 percent in 2007.
The YouTube purchase by Google and the reactions by other Internet companies will accelerate the arrival of video ads across the Web landscape, claimed senior analyst David Hallerman.
By 2010, one of every 10 dollars devoted to Internet advertising will go for video placements, Hallerman told the E-Commerce Times. A key question then will be where that additional spending on online video comes from.
If advertisers redirect large blocks of dollars previously spent on TV advertising to the Web, growth could well outpace even the most robust forecasts. On the other hand, if online advertising simply shifts toward the video realm, with marketers cutting down on search placement or graphical ads, the growth could be more measured.