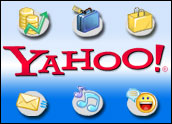 In its first major move since cofounder Jerry Yang returned to the CEO's chair, Yahoo will buy online ad network BlueLithium, a firm that uses online behavioral tracking to help advertisers reach specific consumers at defined times.
The Web portal said it would pay US$300 million in cash for the San Jose, Calif., firm, which it says is one of the fastest-growing online ad networks.
The purchase follows AOL's buy of a rival firm, Tacoda, in July, and underscores the interest in behavioral targeting, which tracks user movements on the Web to anticipate what types of advertising and marketing messages they are most likely to respond to.
'Integral Part'
"BlueLithium's products, technology and team will be an integral part of our drive to build the industry's leading advertising and publishing network," said Yang, who took over for longtime CEO Terry Semel in June and vowed to return the company to its Web pioneer roots.
The purchase will help extend Yahoo's reach to include "powerful data analytics, advanced targeting and innovative media buying strategies," Yang said, adding that those features are increasingly being sought after by customers.
Yahoo shares were up more than 1 percent in morning trading Wednesday despite a down market, rising to $24.24.
Buying and Building
Yahoo has tried to build out its own abilities to deliver ads to Web sites and to purchase its way into a bigger presence in the space. Earlier this year, it bought the outstanding stake in Right Media Exchange, which gave it reach across a host of content sites. With BlueLithium, Yahoo is gaining what comScore Media Metrix says is the fifth largest online advertising network in the U.S., with 145 million unique visitors each month. BlueLithium is even larger in the UK, where it's second only to AOL's Advertising.com.
Yahoo has long been called on by investors and analysts to better monetize its sprawling Web presence and to wring more money out of each advertising slot, areas where rival Google often performs better.
Combining BlueLithium with Right Media and other Yahoo capabilities will enable Yahoo to offer customers the chance to re-market advertising to so-called excess inventory — the millions of Web pages, such as those on social networking sites, that aren't considered premium ad inventory, said Yahoo President Susan Decker.
"BlueLithium's expertise in network management will better enable Yahoo to manage supply and demand across our network, by balancing advertiser goals with publisher value," Decker said.
Venture Backing
BlueLithium had received venture backing from investors, including Walden Venture Capital and 3i. BlueLithium CEO Gurbaksh Chahal will stay with the company through the acquisition, Yahoo said. Yahoo hopes to close the deal sometime in the fourth quarter.
BlueLithium could actually make Right Media more valuable to Yahoo by enabling it to get more value from the ads it sells on lower-profile inventory, said search engine expert John Battelle.
"BlueLithium will create tons of ad inventory to feed the Right Media publisher exchange," Battelle told the E-Commerce Times, adding that the direct response capabilities of the network will be an important bonus.
Petering Out?
The Web ad buying spree may finally be starting to slow, Battelle added, with "fewer and fewer pure-play ad networks of any scale" let to be purchased in the wake of recent buys by Google, which acquired DoubleClick, Microsoft, which bought aQuantive, and AOL.
The Tacoda and BlueLithium deals underscore the mounting interest in behaviorally targeted advertising, which uses data collected through cookies and other tracking methods to pinpoint ads more likely to be of interest to a Web surfer, eMarketer analyst David Hallerman told the E-Commerce Times.
The market "is exploding," he added, with revenue from the niche expected to grow four-fold by 2011 to $4 billion a year, making it a key follow-up to search marketing, which is currently driving online ad revenue growth.
The purchase by Yahoo comes amid renewed speculation that Yahoo itself may be a takeover target. Due to valuations and other factors, Yahoo remains a possible acquisition for a cash-rich company such as Microsoft, said Bear Stearns analyst Robert Peck.
Published reports have repeatedly linked those two companies in recent months, and Peck said he believes Microsoft "continues to evaluate Yahoo as a target." Yahoo has also been offered a stake in MySpace by News Corp. Chairman Rupert Murdoch, who offered to swap the social networking site for a stake in Yahoo.