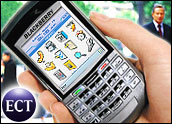 Both Yahoo and America Online have struck deals with Research in Motion, the maker of the hugely popular BlackBerry hand-held, to put their respective versions of instant messenger software on the devices.
Research in Motion announced pacts with both companies today, saying that devices integrated with the chatting software would be available in coming months.
The deals give RIM developers access to the two companies' software code, making it possible for additional functionality to be built into the platforms beyond the ability to communicate instantly.
In addition, AOL members will now be able to use a BlackBerry to access their e-mail accounts, and advanced features of Yahoo mail will be integrated into the devices.
Moving into Mobile
The moves come as AOL and Yahoo join other portals and search companies in seeking new ways to extend their reach — and all the various types of commerce and services purchases that take place there — to the mobile world.
Those companies envision a world in which consumers and business users alike adopt large bundles of branded communications tools such as e-mail and messaging and a larger suite of information management tools, including search engines.
Analysts say it's too early to tell how popular mobile IM will become, since many details, including pricing, have yet to be entirely sorted out. The announcements today with Yahoo and AOL both leave it up to mobile carriers to establish pricing.
While both companies and other portals have struck deals with carriers and hand-held makers in the past, the Blackberry device might be especially well suited to instant messaging and also to more advanced forms of mobile service purchase and mobile commerce.
"BlackBerry provides optimized messaging capabilities with its popular keyboards, large screens, intuitive navigation and push-based connectivity," Mark Guibert, RIM's vice president of corporate marketing, said in a statement.
Another Arrow in the Quiver
The portals likely see mobile IM as another way to hook in more users to buy those bundles of services. Unlike desktop search and communication, mobile versions will have a cost associated with them, and the companies that provide the content will share in the revenue stream along with mobile carriers.
"The search sites and the portals want to lock in loyal customers regardless of where they are or what they're using to access the Web," Forrester Research analyst Charlene Li told the E-Commerce Times. "The important thing is that they don't lose the brand loyalty when they change devices."
Locking in users in that way will make content-based networks, search tools and other services that much more valuable as the Web evolves and is accessed through a variety of channels, whether it be through mobile devices or while watching interactive television.
"The medium matters less than the brand identity," she added. Loyal users are more valuable to advertisers because they see marketing more often and are more valuable to the portals because they are more likely to engage in e-commerce and buy premium services.
Watching the Competition
Meanwhile, Research in Motion benefits by being able to offer customers a hand-held with a wider range of services built-in, an important element as it faces increasing competition from phone makers who have rolled out hand-helds with increased functionality and connectivity.
The feature is important given that "instant messaging is enjoying continued growth," RIM's Guibert said, adding that the combination of technologies will create a "convenient and powerful communications solution."
In fact, Yahoo and AOL both have their IM platform available on some smartphones and through wireless carriers. However, the Blackberry, which is made to be used for reading and writing e-mail, might be a device especially well suited to sending instant messages.
RIM has begun to license its software to smartphone makers, though some analysts have questioned that strategy given that the vast majority of the Canada-based company's revenues come from the sale of the hand-held devices themselves.