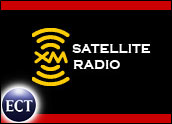 XM Satellite Radio said Friday it added 1.7 million new subscribers during 2006, giving it some 7.6 million subscribers as it continues to lead rival Sirius (Nasdaq: SIRI) in terms of total customers.
The company said it added approximately 442,000 new subscribers in the fourth quarter, a key time of the year for the satellite providers as holiday shoppers give satellite receivers and subscriptions as gifts.
Earlier this week, Sirius said that it had added twice as many new customers in the fourth quarter as XM, with 905,000 new users signing up; however, it remains the smaller of the two companies, with a total of slightly more than 6 million subscribers.
"XM completed another year of significant subscriber growth, despite retail softness," said CEO Hugh Panero. He cited "continued cost controls" that helped XM become cash flow positive during the fourth quarter.
Despite the good news and milestones, satellite subscriber growth started to slow significantly in 2006. In fact, XM twice lowered its own forecasts for new customers during the year and the final tally of 7.6 total customers narrowly missed the low end of those lowered targets, which called for 7.7 million to 7.9 million users signed up by year's end.
Last Year's News
Sirius met its own targets for subscriber growth — which it also lowered once during the year — and has been outgrowing its larger rival for several quarters now. Still, Sirius also reported weaker-than-hoped-for sales of its devices and subscription plans during the fourth quarter.
Satellite radio was one of the hot gifts during the 2005 holiday season, but was this year overshadowed by other gadgets, especially the PlayStaion 3, Xbox 360 and the iPod.
Sirius attempted to light a fire under subscriptions about halfway through the year by offering a free, one-day Web-based preview centered around "The Howard Stern Show," the shock-jock program that cost Sirius owner Mel Karmazin US$500 million to bring onto his satellite network.
In 2006, both companies launched Web-based content as well, hoping to expand the reach of their programming. Both have spent tens of millions to produce content which features celebrities and brand names such as Oprah Winfrey and Bob Dylan on XM and Martha Stewart on Sirius.
Shares of both satellite companies' stock were higher in Friday trading. XM was up 1.8 percent to $15.25, while Sirius stock climbed about 1 percent to $3.81.
Two for One?
Sirius has been making up ground on XM, which launched nearly a full year earlier, but it remains to be seen whether the satellite radio market is large enough to warrant two competing companies. Rumors of possible mergers arise every so often, only to be batted down by the companies, which have developed a fierce rivalry.
Still, even some executives of the companies have acknowledged the wisdom of a merger.
Sirius CFO David Frear said in December that a combination would help shareholders of both companies, leading to speculation again that a merger was close.
Regulatory hurdles may be high, but a merger still makes plenty of sense, said RBC Capital analyst David Bank. With both offerings widely available in automobiles and the market for portable receivers not as large as first though, the "next real game changer is going to be whether or not these companies are going to merge," Bank noted.
One element that could push along such a deal is the popularity of the iPod. The portable device can be plugged into many new car models; the satellite companies could argue that the iPod and other digital music players are competing for the same consumer dollar as the satellite companies — as well as traditional terrestrial radio.
Meanwhile, slower growth may not be all bad news for the satellite companies, noted JupiterResearch analyst Barry Parr.
In the past, strong growth was almost always accompanied by huge marketing costs. At one point, according to Parr, XM was spending a full year's subscription revenue to acquire each new customer.
Another test, Parr added, will be how well the companies control so-called churn, or customer loss, as they mature. "That will go a long way to telling if they can sustain themselves long term," he said.