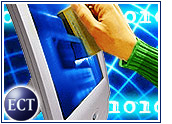 Buy.com said Thursday that its credit card processor has reversed an earlier decision to terminate the company's contract, after the e-tailer's founder agreed to provide Buy.com with an additional cash infusion.
The threat of termination, which Buy.com revealed in a filing with the U.S. Securities and Exchange Commission (SEC) earlier this week, could have left the company without the ability to accept credit card payments starting September 1st.
That, Buy.com admitted, could have forced the already struggling e-tailer to close its virtual doors.
"I am pleased to report that it's business as usual," Buy.com president Robert Price said. "All of us at Buy.com are pleased with the renewal of our credit card processor relationship."
More Money
The reversal by the unnamed credit card processing company came after Buy.com founder Scott A. Blum agreed to provide an undisclosed amount of additional financing to the e-tailer.
The new funding comes on top of US$9 million Blum promised when he made a bid of $23 million, or 17 cents per outstanding share, through SB Acquisition to merge with Buy.com and take the company private.
No Cash, No Service
Before the new financing cleared the way for the renewal, Buy.com faced two dire prospects, according to analysts. Either Buy.com would not be able to accept credit cards at its site at all, effectively putting the firm out of business, or it would have to sign a deal with a new credit card processing services provider — most likely with much higher fees that would have cut further into Buy.com's already thin margins.
In fact, Buy.com told the SEC that because more than 90 percent of its revenue comes from credit card transactions, "it is not likely that it would be able to continue as a going concern" without a new provider.
"I am happy to provide the necessary financial backing for the company's continuing operations," said Blum.
Electronics Storm
Buy.com may have received new life with the reversal, but faces an increasingly competitive battle in the consumer electronics marketplace, where the number of pure-play online retailers is shrinking fast.
For example, with an intended acquisition by PC Connection in jeopardy, pure-play electronics e-tailer Cyberian Outpost (Nasdaq: COOL) has said it is looking for other potential buyers.
And in other news, on August 20th, pure-play giant Amazon.com announced a partnership with brick-and-mortar electronics retailer Circuit City.
Meanwhile, over the past two weeks, Buy.com has cut its workforce by 40 percent and seen its stock, which peaked at $35 last year, delisted from the Nasdaq for failing to meet the exchange's minimum requirements.
The Aliso Viejo, California-based e-tailer also reported a sharp decline in sales during the second quarter, though it did also manage to cut its financial losses during the same period.