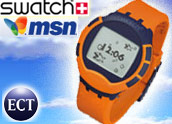 In a world that just keeps getting smaller, Microsoft and Swatch have teamed up to introduce a new line of watches that that uses wireless technology to offer personalized news, sports and weather from MSN Direct.
If that's not enough to sell the futuristic timepiece, the Swiss watchmaker is also attempting to woo consumers with exclusive entertainment information.
Swatch City is rolling out specialized content from Time Out providing information about hot bars, cool clubs, hip locales and free events where buyers can show off their new ware.
Dubbed Paparazzi, the four multicolored styles of the wireless wristwatches are three years in the making and perfectly timed for the holiday shopping season.
"Communication is very powerful," said Nick Hayek Jr., CEO of Swatch Group. "The information you share is one part, and the way you communicate it is the other. Swatch Paparazzi offers a lifestyle of communication that is original and fun — clearly a plus for the wearer."
Small Screen
Fossil and Tisso also have "smart watches" on the market. Still, is this a smart investment by watch companies, considering that cell phones and PDAs can offer the same information with a larger screen?
Jupiter Research analyst Michael Gartenberg told the E-Commerce Times that smart watches take advantage of "invisible space," items you carry with you that don't take up any additional space.
"It's not about taking a PDA and strapping it to your wrist; it's about taking the watch that you already wear and that already has personal appeal to you and making that watch smarter," Gartenberg said.
"It's not going to be the same depth of information that you get, for example, from a Windows XP computer running on a 21-inch monitor, but for many people it maximizes available space to convey important information at a glance."
Paparazzi comes with plenty of bells and whistles. The chunky design and extra large size allows the watchmaker to include five function buttons with which to navigate and control the wireless world.
Pay Service
Of course, the watch is not free and neither are its wireless services. The watch retails for US$150, which is two to three times the cost of the non-wireless Swatch counterparts.
While local weather, news headlines and stock indexes are free for all owners, consumers will have to pay $40 a year for personalized information. For $60 a year, the user can even receive instant messages and calendar reminders from their PC running Microsoft Outlook software.
Gartenberg said smart watches represent a nascent market that will first appeal to technology enthusiasts, but a market that is worthy of watching.
"There's a future here as the market figures out what the right information is, what the right price points are and what the right form factors are," Gartenberg said.