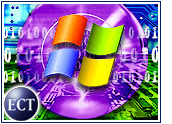 Microsoft has revealed it is considering rolling out an enhanced version of Windows XP, a move seen as a way to bridge what could be a longer-than-expected wait for its next-generation Longhorn platform.
Executives at the Redmond, Washington-based software company said the project, known as "Windows XP Reloaded," would be more than a service pack but less than a full-fledged new version of the operating system.
Jim Allchin, Microsoft's group vice president for platforms, told reporters that the upgrade will include several new features, some of which also are slated to be included in Longhorn. How and when to distribute the upgrade to existing XP customers is still being worked out, he said.
Bridge Too Far?
Many observers took the announcement as evidence that Longhorn is running behind schedule. Microsoft has never pegged a specific release date for that platform, but most believed, based in part on a preview demonstration by company chairman Bill Gates last fall, that it would be available by the end of 2006. Late last year, pirated versions of Longhorn began to appear for sale in Asia-Pacific countries.
However, an XP upgrade released in 2004 or 2005 might indicate that 2007 is a more realistic arrival date for Longhorn, with some prognosticators saying Longhorn might not launch commercially until 2008.
Lock and Load
Some analysts view an XP upgrade as a way of preventing customers from straying to competing operating systems, most notably Linux, before Longhorn can be rolled out.
Directions on Microsoft analyst Rob Helms said that although such alternatives pose only a modest threat to Microsoft today, enterprises on the fence about adopting Linux on a more widespread basis may want a more clear product release road map from Microsoft.
"Microsoft has tried to lay out its blueprint, but it's clear what they're trying to do with Longhorn is a clean break from the past, so that's going to be more complex than what they've done the past few times around," Helms told the E-Commerce Times. "Any confusion or uncertainty is going to be disruptive as enterprises plan for the investments they hope will carry them through the next three to five years."
More Secure Microsoft?
Longhorn is expected to be designed to encourage enterprises to use Microsoft products even more ubiquitously in networks and on desktops.
"From a security perspective, Microsoft is promising to bake it all into Longhorn — that it's going to be more secure from the ground up," Gartner analyst John Pescatore told the E-Commerce Times. "The upgrades they've talked about and previewed could take Microsoft software and make it one of the more secure platforms out there. The question is how long customers are willing to wait for that."
Microsoft already has released several security-related service packs for Windows XP, including one that turns on the software's built-in firewall by default. Similarly, the XP Reloaded effort may be more about encouraging users to explore and utilize some features already included in the XP system that Microsoft said it previously has not done enough to promote.
On the Road
As the software industry and enterprises tried to digest the latest news out of Redmond, Gates continued a tour of some of the United States' most important technology and engineering schools to spread the message that software remains key to future economic prosperity.
At a stop at the Massachusetts Institute of Technology, Gates underscored the importance of continued investment in IT advances to keep the United States from losing its competitive edge in the world.
During a question-and-answer session with students, he also said Microsoft is considering how best to put its more than US$50 billion in cash reserves to work.