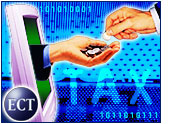 Once thought to be a monster waiting in the shadows, poised to bludgeon online commerce, Internet sales tax is proving to be more of a nuisance than a threat.
Early this year, a half-dozen major multichannel retailers, including Toys "R" Us, Wal-Mart and Target, began collecting sales tax on online purchases. The transition came quietly, without much fanfare and, so far at least, without much fallout.
None of the publicly traded companies that tacked on sales tax has reported first-quarter earnings yet; most are slated to post results later this month. But analysts say one thing is already clear: The advent of widespread sales tax collection by big-name e-tailers has not dampened overall e-commerce growth. Will this promising trend continue in the future, or will consumers rise up against online sales tax as its prevalence grows?
Growing Strong
According to comScore/Media Metrix, online sales in the first two months of 2003, when tax collection began, rose 26 percent overall compared with the same time period last year, reaching US$13.9 billion. For nontravel spending, the category of sales most likely to be newly taxed, growth amounted to 19 percent, to a total of $7.8 billion.
"There will always be some subset of transactions impacted by the sales, at least enough to make the consumer think twice," comScore vice president Daniel Hess told the E-Commerce Times. "But overall, I believe consumers already had the expectation that this was part of the cost of whatever they're buying."
In fact, Hess said, a majority of online sites have been charging sales tax on at least some purchases for a while. And although the tax holiday, so to speak, may have helped e-commerce establish a foothold, it probably is not nearly as important anymore.
"Had this happened three years ago, the reaction might have been different," Hess noted.
Who's Derailing What?
Indeed, one argument used to oppose online sales tax for so long was that implementing it would derail e-commerce growth. With e-commerce topping $45 billion in 2002, according to U.S. Department of Commerce data, that argument has lost much of its punch.
But some people never bought this argument anyway, saying consumers began using the Web to make purchases not because of lower prices, but because of convenience.
"[In] every survey we do, consumers come back saying they buy online because it is convenient, not less expensive," GartnerG2 analyst David Schehr told the E-Commerce Times. "The sales tax question doesn't change that equation much."
Distracted Audience
Nielsen//NetRatings analyst Abha Bhagat told the E-Commerce Times that determining whether people have steered clear of certain e-tail sites as a result of sales tax imposition is difficult, since the invasion of Iraq diverted millions of surfers for a span of about three weeks. By the end of March, however, e-tail traffic was back with a vengeance.
In fact, Bhagat said, collecting sales tax online may help tighten integration between various sales channels for retailers.
"Now it becomes easier for [a] customer to return a product to a store, where before the lack of sales tax may have been a barrier to that," she said. "It's quite possible that, given that kind of ease of returning a product anywhere, it may be a net gain for merchants."
Shopping Around
Still, Bhagat acknowledged that because the nature of the Internet promotes comparison shopping, in the short term, multichannel retailers that have begun collecting sales tax could lose business to pure-plays that eschew such charges.
But even that may be a short-lived phenomenon. Once-staunch opposition to a blanket Internet sales tax has weakened considerably amid state budget shortfalls, which have prompted states that have long defended a tax-free Internet, including California, to take another look at this issue.
But experts say online sales tax will not be the panacea states are seeking to help fill massive budget gaps. Although a widely quoted University of Tennessee study estimated states lost some $13 billion in tax revenue in 2001 because no online taxes were levied, that figure has been called into question. The Direct Marketing Association recently released its own study suggesting the figure is probably closer to $2.5 billion and is unlikely to exceed $4.5 billion until 2011.
Long-Term Impact Unclear
Meanwhile, with pure-play giants like Amazon and eBay still not on the sales tax bandwagon, the trend's impact on the overall e-commerce sector will remain muted. After all, sales on eBay, where tax collection would be complicated by the nature of the consumer-to-consumer sales model, are expected to generate nearly $2 billion in revenue for the auction giant this year, and Amazon did nearly $4 billion in sales in 2002.
Slowly but surely, however, online sales tax is becoming an inescapable e-business reality. And although consumers have not yet revolted, it remains to be seen how well they will adjust over the long term.