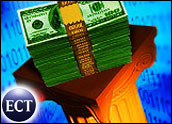 Many venture capitalists have seen millions of dollars of well-intentioned funding vanish, but they have not given up on the tech economy — even though they are in much less of a hurry to invest in technology startups.
"Great people with good ideas are still attracting attention," John Balen, a general partner with Canaan Venture Partners in Menlo Park, California, told the E-Commerce Times. However, he added, "it's back to basics."
Numerous VCs are nursing wounds sustained when companies collapsed and stopped going public at a record clip. But most of the venture capital firms that trace their roots back to the pre-boom era are still hanging on, if not thriving.
"Those who came late to the party and tried to grab all the fun at once are hurting," said Balen, whose firm's investments include Commerce One, Network Engines and Interact Commerce.
This group of latecomers, which many long-time VCs refer to as "visitors," can be said to include Internet incubators like Idealab, CMGI and Internet Capital Group, as well as deep-pocketed overseas investors like Softbank.
Just Looking
Softbank has begun to cash out of some of its successful plays, including Yahoo! and E*Trade, as it tries to cushion the blow of losses suffered at the hands of Webvan and Kozmo. Meanwhile, both CMGI and ICG have sold off or closed under-performing portfolio companies and have laid off dozens of workers in their effort to stay afloat.
For its part, Idealab now focuses as much on court proceedings as on investment options. A group of investors has sued to recoup about US$1 billion in capital poured into the incubator just before a planned IPO that never happened.
Idealab, founded in 1996 as the Internet boom was starting, is hoping to nurture firms like Cooking.com and CarsDirect.com, its strongest remaining swimmers in a portfolio that once included Eve.com and eToys. An Idealab spokesperson said the incubator is actively nurturing its existing companies and searching for new investment opportunities.
Meanwhile, companies are still being funded, but at a rate that compares most closely with pre-bubble days. According to the most recent MoneyTree survey from PricewaterhouseCoopers, Venture Economics and the National Venture Capital Association, total venture investment in the second quarter fell to $5.7 billion, an 11 percent decrease from the first quarter and the lowest total since the third quarter of 1998.
Hanging On
"Most venture firms are small and diverse and experienced enough to withstand the worst of times," Mark Heesen, president of the National Venture Capital Association, told the E-Commerce Times. "Firms are preserving capital now, but are also remaining alert and working with longer time frames."
Heesen said the history of venture capital in the United States shows that many successful firms are funded during economic and market downturns. "Firms can't afford to shut it down," he added — nor do investors want them to.
"Our investors realize we are in a high-risk, high-return environment," Balen said.
In fact, one benefit of the tech fallout may be an increased awareness of how venture capital investments work. "A lot of new people were brought into the loop, and while some of them won't be around [now], a lot of them have a new understanding of our industry," Balen said. "That should help keep capital available going forward."
How High?
Balen believes the availability of capital is critical, since innovation does not stop when the economy slows. He said many potentially great companies failed to materialize in the slow times of the early 1980s because of a lack of funding.
Still, even the most optimistic venture investors recognize that it may be a long time before the go-go days of the late 1990s return.
"I've learned to never say never," Balen said. "When you look back at that peak, it's hard to believe we got there at all. I think the question is, what time frame would we be talking about? In the reasonable near term, I think it's doubtful — but beyond that, who knows?"