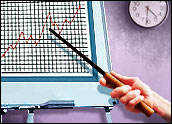 What does performance mean to your e-business? If you are like most e-business executives, you immediately think about high-level performance metrics such as revenue, costs and customer satisfaction, with varying degrees of emphasis depending on whether your e-business Web site is focused on serving customers, partners or employees.
While these are popular indicators of success, the key to running an e-business is to identify the drivers behind these top-level measures and understand which ones you need to tune up in order to increase the effectiveness of your e-business performance.
E-business performance responsibility doesn't trickle neatly into buckets of accountability for IT or marketing teams; many of the drivers are inter-related and are affected by what both IT and marketing can control. Performance encompasses two broad categories that can be defined as Customer Experience Management and Service Level Management.
Successful CEM
Customer Experience Management (CEM) is aimed at enhancing site design, usability, content and brand impact. Successful CEM answers the following types of questions:
How do I compare to the competition?
What are the drivers for a more effective e-business?
How do I measure the impact of my site on my brand?
Service Level Management (SLM) is designed to test and tune your site, define the business and IT objectives and deliver on the service level objectives. Successful SLM addresses the following types of questions:
Are we ready to open the doors?
How has business defined performance standards to measure IT?
Are we delivering on service level expectations set by business?
In working with many e-business leaders over the past few years, I've observed that the effective ones don't focus solely on drivers in any one functional area but in both these areas of CEM and SLM.
Identifying the Drivers
It's not rocket science that good online retailers, for example, strive for excellence in operations, marketing, engineering and other functional areas. The great ones take it even farther; they identify the drivers that matter and assign accountability for these drivers across functional organizations, as they relate to CEM and SLM. This has the dual benefits of aligning organizational teams on the same goals and also stimulating collaboration and communication among marketing and IT organizations.
What are the drivers that you should identify, measure and tune for your e-business? Let's take the metric of customer satisfaction.
Customer satisfaction is driven by many factors, including: the speed of the Web site, the content, the ease of use of the site, the navigation, design and visual appeal.
Many of these factors actually co-affect one another in determining a customer's satisfaction. For example, customers might find a site difficult to use because, in fact, the Web applications are sluggish in returning information to the customers' browser. In order to identify the factors that truly drive customer satisfaction for your e-business, you need to first listen to your customers. There are excellent solutions on the market for collecting customer experience data from companies including, of course, Keynote Systems.
Responsibility for Metric
If you are listening to your customers and they indicate that your Web pages are slow and increase their dissatisfaction, then you know that speed of the pages is one of your critical drivers of customer satisfaction. Traditionally, the speed of the site is a metric that is assigned to the IT group, and the IT group, in turn, often points to the marketing folks, who "love to load up the pages with graphics."
Successful e-businesses will make this metric the responsibility of both functional groups, which will then establish internal requirements and work together to achieve the delicate balance between speed, content and ease of use.
Another widely watched metric in the online retail world is conversion rate, which obviously affects top-line revenue. According to data from the August 2004 DoubleClick report titled "Q2 2004 E-Commerce Site Trend Report," conversion rates in Q2 2004 are around 4.9 percent in the United States. Most retailers are focused on increasing conversion rates.
Again, you need to listen to your customers to determine "what drives my conversation rate?" Interestingly, you will probably find similar drivers as mentioned above. You must ensure that your customer experience testing is statistically significant and interpreted correctly to tease out the drivers.
In this example, you might find that the key driver for conversion rate is some combination of price/value perception, navigation and speed of the check-out process. If you find that speed is indeed a key driver, then your marketing and IT teams will need to work cooperatively
Providing Focus
By identifying the drivers of performance, you'll provide focus for your organization, and your teams will work on the things that can substantially impact your e-business.
I recently met with an online business that has an IT group focused on meeting specific availability and response time metrics for the Web pages. They recently invited 1,000 of their visitors to provide feedback on the checkout process and discovered that most were, in fact, satisfied with the response time of the checkout pages. However, it was the visual layout of the shopping cart that created confusion and, thus, higher abandonment rates among visitors.
Speed of the pages still matters but, in this case, visual layout was a bigger driver of abandonment.
While CEM is often the purview of marketing teams and SLM is often the responsibility of IT, successful retailers find ways to identify key drivers of performance across both areas (as they are often related!) and apply the appropriate solutions to enhance the drivers. Do you know your key drivers?
---
Carol Carpenter
is director of Product Management for Keynote System's Web performance testing, measurement and management services.
---
This story was originally published on October 23, 2004, and is brought to you today as part of our Best of ECT News series.
---