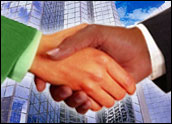 The Washington Post Company announced today that it has reached a deal to acquire the online magazine Slate from Microsoft for an undisclosed sum.
"Slate has been a pioneer in Internet publishing, and it is a fine magazine," Donald Graham, chairman and chief executive officer of the Washington Post Company said. "Founder Michael Kinsley, editor Jacob Weisberg and Microsoft deserve great credit for creating Slate. We couldn't be more enthusiastic about this acquisition."
Weisberg, who will remain editor of Slate, also said he "couldn't be more excited about this move" and that the Washington Post Company is "the best place for Slate to continue to grow and develop."
Similar to the Post's other online publications — WashingtonPost.com and Newsweek.com — Slate reaches a highly educated and influential audience of readers who use the Web as a primary source of news, information and commerce. The site has 5 million unique users who rely on the Web as their primary source of news and information, according to Nielsen NetRatings.
Online Advertising Pull
Kaizad Gotla, Internet analyst at Nielsen NetRatings, told the E-Commerce Times that the online advertising world is just heating up and the acquisition offers the Post another avenue to generate more advertising dollars.
The company's earnings were already growing pre-acquisition. Revenue for Post publications increased 37 percent to US$44.7 million for the first nine months of 2004. The Post's online display advertising revenues grew 59 percent for the first nine months of 2004.
"Online content in general is probably going to become more and more popular," Gotla said. "Slate will continue to be offered on the MSN portal, so it will still have a healthy referral audience going to its site from the MSN portal. The online content companies were probably worse hit during the dot-com bust, but I think they are beginning to reemerge from that now."
Shifting Strategy
The content strategies seem to be shifting, however, in the reemergence. Print publications have tended to delay posting much or sometimes all of their stories until publication hits the street. Now, it is starting toevolve into posting stories right away.
How does the Post's purchase of Slate figure into that evolution? Gotla said, "The Washington Post primarily tries to distinguish its online content from its offline content and so purchasing Slate gives it access to more high-end or upscale viewers of their content."