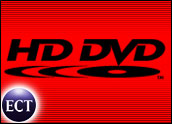 Hoping to grab the early lead in the move toward high-definition DVDs, Warner Home Video said it would release a disc next month that contains both traditional and high-definition versions of the same film.
The DVD release of "Rumor Has It," a romantic comedy starring Kevin Costner and Jennifer Aniston, will be the first in the HD DVD and DVD Combo Format. One side of the disc will feature the high-definition version and the other the standard definition version of the same film.
Movies Available
Warner is also debuting three films in standalone HD DVD format. Those films — standard versions of which are already available — are "Goodfellas," "Swordfish" and "Training Day."
"We are pleased to be continuing our rollout of new HD DVD titles," said Warner Bros. Senior Vice President of Market Management Stephen Nickerson. The combo version he said, is the "ideal choice" for now because it "gives consumers the greatest flexibility in viewing options" and enables them to buy the movie now, even if they are considering an upgrade to an HD player in the near future, he said.
The added versatility will come at a price, however, with the combo film retailing for US$39.99. The high-definition versions of the other three movies will carry a price tag of $29.99.
Warner has already rolled out some titles on HD DVD and said another batch would hit shelves during May.
High-definition DVDs typically feature resolution up to six times higher than standard discs and also carry additional interactive functionality, including a menu bar that can be called up without stopping or blocking the viewing of the movie.
Jumping the Gun?
The rollout of high definition DVDs comes at a time when the battle over a standard for the technology is still being waged, with the Blu-ray standard developed by Sony vying with the HD DVD technology.
Being early to market with HD DVD may help that standard lock in a significant portion of the market.
Already, the format battle is setting up tough choices for many, including electronics makers who must weigh which format to use when producing players and accessories, and retailers, who face the prospect of having to answer consumers' questions about which format is superior or more likely to emerge victorious over time.
Some appear to be able to avoid picking sides, however. Amazon.com, for instance, said it will give its customers a choice of picking which format to have DVDs created in when they are buying a movie. That approach, which actually creates DVDs from digital media after they are ordered by consumers, eliminates the need to double-stock movies.
Advantage HD?
The HD DVD standard appears to have an edge; Sony has not been able to convince as many hardware makers to adopt Blu-ray as it had hoped.
The hybrid discs from Warner emphasize one of the advantages that the HD camp believes it has — the likelihood that people will upgrade slowly to a fully HD-compatible home theater system rather than making the necessary investment to acquire an HD-capable TV and movie player all at once.
It remains to be seen whether many consumers will go for the nearly US$40 price tag on the discs, but they may have appeal for early adopters of new technologies.
Blu-ray, meanwhile, seems to be falling farther behind in the HD DVD pace, making it more likely that it will have difficulty gaining market traction, unless it can offer a substantial improvement in picture quality or other features, or can offer the HD-compatible players at a lower price.
Some say the DVD format battle will turn out to be a temporary rest stop on the way to Web-delivered movies and other content, with the arrival of more broadband options making printed media unnecessary within a relatively short time frame.
Those who tried to adopt video-on-demand over the Web initially found it frustrating, giving DVD makers hope that the high-definition format will give them an extended window of time to dominate the at-home movie market, said Gartner analyst Laura Behrens.
"There are still a lot of hurdles in place before online video can compete with DVDs," she noted.