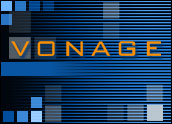 Vonage may not be in the black, but the Internet phone company is nonetheless going public. TheSkype competitor plans to price its shares for an Initial Public Offering (IPO) late Tuesday despite analysts' concerns about the long-term risks of the Voice over Internet Protocol market.
Some 31.25 million shares are expected to be priced at US$16 to $18 each, according to filings with the Securities & Exchange Commission, and the company will begin trading on the New York Stock Exchange Wednesday under the symbol "VG."
Vonage could raise $500 million to $562.5 million. The fast-growing company has seen sales skyrocket from $16.9 million in 2003 to $269.2 million last year.
The company still hasn't turned a profit, though. In fact, its losses have risen with its revenues. Vonage lost $261.3 million last year, despite a subscriber base of more than 1 million. Though it is widely recognized as the VoIP pioneer, Skype, Verizon and various cable companies threaten to erode its market share.
Crowded Space
Vonage doesn't have an open field anymore, noted Scott Cleland, founder and president of Precursor, a research and consulting firm. The VoIP market is just getting more competitive as Internet companies like Yahoo and Google move into the space with offerings of their own.
"Clearly, Vonage has a first mover advantage in its niche, yet the cable and telephone company titans are now moving into that space full bore," Cleland told the E-Commerce Times. "Vonage has to market in order to stay at the forefront. It's all about momentum. If Vonage slows its advertising, it will lose momentum as other competitors ramp up."
With an acquisition cost of about $200 a customer, analysts estimate it takes Vonage about five years to turn a profit on each subscriber. Cable companies, on the other hand, can simply bundle the service along with its broadband, television and other services with little additional marketing expense.
Timing Is Everything
There has been plenty of analyst speculation about a Vonage acquisition over the past few years. Instead, it was competitor Skype that was bought out by another Internet company with deep pockets. Vonage may have missed its optimum window of opportunity, said Jon Arnold, an independent VoIP consultant at J Arnold Associates.
"When Skype got acquired, it preempted Vonage in terms of going public," Arnold told the E-Commerce Times. "Here's Skype with hardly any revenues getting this huge valuation from a company that's not even traditionally in the business, and then there's Vonage trying to build a business from the ground up."
Vonage's public market prospects would have been brighter 18 months ago, when it was clearly the dominant player in the space, Arnold added. Since then, the competition has heated up dramatically.
Long-Term Risks
"While all VoIP providers may flourish in the near term, we believe third-party service providers such as Vonage are troubled longer term," Pali Research analyst Richard Greenfield said in a report.
One of the long-term risks is regulation. Vonage and its cable operator competitors are not subject to the same tax burdens as traditional telecoms like Verizon and AT&T. Vonage doesn't contribute to the Universal Service Fund, for example, that subsidizes the cost of phone service to poor and rural residents. That market advantage could soon come to a screeching halt in the face of telecom lobbying powers.
What's an investor to do? "If you are a growth investor with a high tolerance, Vonage is one of the fastest-growing companies available in which to invest," Cleland said. "However, it doesn't have a clear path to profitability, and it now has to operate in a very crowded field."