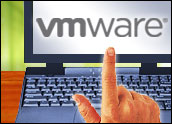 For those familiar with traditional thin-client computing, virtual desktop infrastructure (VDI) solutions feel virtually like old home week with a couple of notable exceptions.
First, rather than depending on dedicated data center-to-desktop hardware resources (a conventional model that is mostly on the wane), VDI leverages server, storage and networking components that are typically part of larger virtualized IT infrastructures. In addition, the obviously essential role of virtualization in these environments means that there are also natural affinities between VDI and cloud computing.
Potential Cloud Synergies
What does any of this have to do with VMware's new View 5.1? Two things: 1) Rather than using a simple hypervisor to slap desktop images onto servers, truly useful VDI also requires effective solutions for IT management, system monitoring and administration, application policy and entitlement management, and data-sharing and collaboration tools; and 2) Due to its potential synergies with cloud computing, innovative VDI offerings should support cloud-based data and processes, and chart a course toward deeper, future cloud integration.
Over time, VMware has continued to succeed among enterprise customers and deepen those relationships despite aggressive efforts of competitors, including Microsoft, which freely includes its Hyper-V virtualization solution as part of its System Center platform.
So why do businesses continue to choose VMware? Because the company continues to deliver sophisticated solutions with more features and better value than competitors can offer — even those that give away their products for free. From the look of things, that essential value proposition will extend to View 5.1 and its related solutions and add-ons.
Tumultuous Time
Just as importantly, VMware View 5.1 is arriving at a particularly tumultuous time in the end-user computing market. While there is wide acceptance of the positive business effects offered by "bring your own device" (BYOD) options, enterprise IT departments are struggling with the logistics of successfully managing, securing and delivering company data to multiple devices, operating systems, form factors and user interfaces.
In addition, Microsoft's Windows 8 — designed for traditional x86 desktops and laptops, touch interface tablets and ARM-based devices — will likely add to the explosion of BYOD options and choices.
Cloud computing usage, which is becoming increasingly common across businesses of every size, could also come into play as a factor in endpoint access and management, making cloud-compatibility a desirable option for VDI customers.
Finally, Dell's recently announced acquisition of Wyse Technologies, the market's largest maker of thin-client and zero-client solutions, could signal a tectonic shift in associated markets and among most related vendors. Dell is certainly a major partner of VDI proponents, including Microsoft and Citrix, but the company has also been among the largest resellers of VMware licenses for many years.
Bottom line: In VMware View 5.1 and its related add-ons and technologies, the company has created a VDI solution set whose benefits will be evident to anyone familiar with VMware's other offerings. At the same time, View 5.1 is arriving at a time when businesses seem more than ready to consider new approaches to end-user computing, leading VDI players — including at least one of VMware's biggest partners — to place significant bets.
Whether these efforts will be enough to make VDI a mainstream business solution remains to be seen, but View 5.1 suggests that VMware believes that the stars are aligning for virtualized desktop infrastructures.