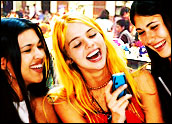 Hoping to connect advertisers with a key youth demographic and pave the way for broader use of mobile marketing, Virgin Mobile USA on Tuesday said it would debut a program that lets pay-as-you-go members earn minutes by watching ads.
Virgin says its SugarMama service will be a way for users to earn more airtime minutes and for advertisers to build relationships over mobile devices with young users. It's set to launch on June 14.
Getting, Giving Feedback
Billed as a way for users to "earn airtime in their spare time," the service requires users to watch short video ads or read text-based ads and then provide feedback to the advertiser by sending back a text message or answering questions about the ad.
"This is truly a win-win situation for everyone involved," said Dan Schulman, Virgin Mobile USA's CEO.
Customers will get the ability to earn minutes and gain access to exclusive offers from marketers, who in turn will be able to add "a smart and targeted mobile channel to their media mix."
Virgin said the service is the only one of its kind in the mobile sector. In that light, it could be a canary in the coal mine for mobile advertising, which is seen as having enormous potential because of the amount of time many users — especially younger consumers — spend with their hand-held devices and because of the ability to target users with ads based on their location.
Coming Soon?
Virgin said it had three advertisers already lined up to test the service, including Microsoft, which will feature the Xbox in SugarMama ads; Pepsi-Cola, which will hawk Diet Mountain Dew in its ads; and the "truth" anti-smoking campaign being run by the American Legacy Foundation.
The opportunity for two-way interaction with potential customers is a powerful draw, said Chris Di Cesare, director of marketing for Xbox. "We're always seeking opportunities to learn from our customers," he declared, adding that the SugarMama program "provides us with a new way to drive consumer awareness yet gain valuable insight from our customers that helps us continually deliver new breakthroughs in gaming entertainment."
Virgin said it built the SugarMama service with input from customers and advertisers.
From the outset, Virgin will be collecting demographic data through the program. In order to take part, users — who must be at least 13 years old — will fill out a demographic profile on the Virgin Web site.
From there, customers can earn airtime by answering questions correctly about ads they've been invited to watch or by responding to text messages containing ads or discounts.
Virgin said it would expand the program, which is being run on a platform developed by Ultramercial, over time to give advertisers the chance to show long-form video or full-length programs to participants.
Its demographics likely lend themselves to the promotional effort, since Virgin offers only pre-paid service that is favored by young users and by parents who buy the non-subscription services for their younger children as a way of limiting the amount of time they spend talking, downloading or text-chatting.
Virgin Mobile is a joint venture of the UK's Virgin and Sprint Nextel, whose network the service re-sells access on. With just about four million U.S. customers, it's a relatively small carrier.
Matter of Time
Widespread mobile advertising is all but an inevitability, but expect significant resistance from users, who are already paying for their mobile service and may see all but the most useful advertising as double-dipping for their carriers.
In that sense, the Virgin pilot may be a model other carriers are willing to emulate, though a similar effort could take a slightly different form. For instance, a carrier might offer a user the opportunity to play an online game or download a song for free in exchange for having them watch an ad message.
Users are spending more and more time with their mobile devices and advertisers will want to reach them there, said telecom analyst Jeff Kagan. "The mobile device will be the third screen after television and the PC and advertisers will want to have a presence on all three."
Still, the Virgin plan "reminds me of similar ideas in the 1990s that fell flat," Kagan added. "If it is marketed differently, or the benefit is different, it might work because it still sounds like a good idea. But the past history of this kind of offering isn't good."
A recent report from In-Stat showed many consumers would resist efforts to propagate ads on their mobile devices unless there was a payback. Half of those In-Stat surveyed said they would be willing to see ads if the advertisers picked up part of their monthly bills and most also said they were reluctant to purchase premium services because the current costs are too high.
The current approach likely won't translate for monthly subscribers, especially since the number of minutes even basic plans offer has skyrocketed recently and since most plans offer free weekends or night-time calling and free calling to certain other phone users.
The recently launched ESPN Mobile, a virtual network approach that also uses the Sprint network, intersperses ads in key places such as when news, scores or video clips are being loaded onto a phone. Eventually, the great promise of mobile ads lies in geo-targeting — delivering ads based on where a person with a mobile device is at any given time. Such services are still mainly in the early stages of development, however.