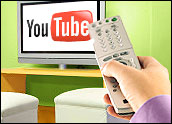 While Viacom is seeking a cool US$1 billion in its suit against Google's YouTube for allegedly using Viacom's copyrighted content without permission, the stakes may be far higher for Google and other Internet companies.
Google is expected to argue that the safe harbor provision of the Digital Millennium Copyright Act (DMCA) gives it protection against the suit. However, if the argument falls short, the fallout could rattle the Web search industry and the social media sector to the core.
'Brazen Disregard'
Viacom claims that more than 150,000 unauthorized clips have appeared on YouTube in recent months, with what the media giant called "an astounding" 1.5 billion individual downloads over that time.
Viacom, the parent company of TV networks such as MTV and Nickelodeon, said in its suit that YouTube "harnessed technology to willfully infringe copyrights on a huge scale" and had shown "brazen disregard" for the intellectual property of others.
The Viacom suit was not a complete surprise. The company had issued a formal demand last month asking Google to remove thousands of videos from YouTube. Later, it signed a deal with YouTube rival Joost, licensing its content to that startup instead of Google, which had been in talks to land a deal with Viacom.
Google had apparently anticipated legal action when it bought YouTube, setting aside a portion of the $1.65 billion purchase price for future legal costs.
Murky Legal Waters
The legal issues raised by the suit are largely untested, making it difficult to predict how the case will turn out. Viacom may be trying to use the suit as leverage for a more favorable advertising revenue-sharing agreement from Google.
Other companies have tried to use the DMCA to defend their businesses — even when their users were guilty of copyright infringement — but Napster, Grokster and others found those arguments often fell short. In those cases, however, it wasn't clear about the legal, noninfringing use of those peer-to-peer networks — Google can certainly argue that YouTube has a viable and obvious use as a legal site for sharing user-generated videos.
Viacom's suit appears to represent a new or additional tack in its war on infringement against YouTube, Michael J. Meurer, director of the Institute for Business, Law & Technology at the Boston University School of Law, told the E-Commerce Times.
Viacom's earlier subpoenas — aimed at learning the identities of YouTube users who were posting copyrighted content — borrowed directly from the RIAA (Recording Industry Association of America) lawsuits aimed at stopping digital music sharing.
Shielded by the DMCA?
Nevertheless, as long as it had complied with takedown requests, Google likely is protected by the safe harbor provisions of DMCA, Meurer added. The complications start when repeated infringement occurs and courts have not yet issued a clear decision on what responsibilities a Web company has to prevent infringement, which will likely be the issue upon which the Viacom case hinges.
Indeed, for Viacom, proving Google knew infringement was continuing to take place after initial takedown of videos may be the most difficult and important part of the case.
Google has a strong defense in the form of the DMCA safe harbor provisions, Michael Graham, an intellectual property attorney and partner with Marshall Gerstein & Borun, told the E-Commerce Times.
"I'd be very surprised if this suit has legs," he said. Google has already registered YouTube as an Internet service provider, availing it of the law's protections, he noted. "Right now, it seems like a way of gaining publicity and leverage for negotiations."
Just knowing that infringement is taking place is not enough to make Google liable, Graham added. "Everybody knows this stuff is going to happen," he said. "But as long as Google satisfies the notice and takedown requirements, they should be OK."
Follow the Leader?
Another significant risk for Google would be if other media companies follow Viacom's lead and file suits of their own. In that situation, Google's exposure to damages could quickly add up to significant sums, possibly a sum large enough to dwarf the revenue and profit YouTube may generate.
Viacom had already established itself as an outspoken YouTube critic with its earlier actions and also has a demographic target — of mostly young people — that might ratchet up the stakes for it to protect its online content, Scott Kessler, an analyst for Standard & Poor's, told the E-Commerce Times.
Google could not be reached for comment on the suit, but Google attorney Alexander Macgillivray told Reuters that the company was confident that it bought a legally viable company when it purchased YouTube. "We're saying that the DMCA protects what we're doing," he said.
Going it Alone?
The suit and its potential fallout also raise another key question about YouTube: Whether or not it can remain viable as a video-sharing network based more on true user-generated content.
Google has tried to make that a moot point, striking deals such as a recent partnership with the National Basketball Association (NBA) to license copyrighted content under certain conditions and give users NBA-generated video clips to play with on the site.
While user-generated content makes up the vast majority of the content on YouTube, professional content may be far more valuable to Google in terms of the prices it can charge for advertisers to gain access to viewers, Forrester Research analyst James McQuivey told the E-Commerce Times.
As YouTube rolls out more video advertising that appears before and after video clips, viewers are more likely to be receptive to TV-style ads when watching TV quality content, he stated.
A Major Annoyance
Other media companies will "line up behind Viacom," predicted Josh Bernoff, another Forrester analyst.
Viacom is likely using the Grokster decision as a guide, citing the P2P (peer-to-peer) network shut down because it was deemed to have disregarded copyright issues, he noted.
"If Google doesn't move in a very public way to accommodate Viacom's copyrights, this is going to the Supreme Court," Bernoff said. Google may settle, but will likely have to prove to Viacom first that it can effectively monitor YouTube on an ongoing basis.
"Either way, this is now a major annoyance for Google," he concluded.