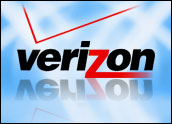 Verizon Communications nudged past Wall Street estimates for profit in its third quarter as surging revenue in its wireless business helped offset a surge in expenses.
Verizon said revenue rose 26 percent to US$23.25 billion as the company began to reap the benefits of its consolidation efforts, including a boost in sales due to the acquisition of long-distance player MCI. With MCI sales stripped out, sales were up about 4 percent.
The company said it would have earned close to $2 billion in the quarter if not for some special one-time costs associated with acquisitions, a new headquarters and a pension settlement. Instead, profit was $1.92 billion, up just slightly from the $1.87 billion earned in the year-ago quarter.
"Verizon continues to win customers and market share for wireless, broadband and enterprise services," said CEO Ivan Seidenberg. "These organic growth initiatives gained momentum in the third quarter, and we are confident this growth is sustainable.
"The integration of the former MCI is producing significant operational benefits and synergies that are on plan," he added.
Despite the mostly upbeat report, investors sold off Verizon shares amid a down market early Monday, with the stock falling 3.5 percent to $37.45.
Masking Weakness?
The growth in the wireless business — it added 1.9 million net new customers — helped make Verizon Wireless the largest mobile carrier in the U.S. by revenue and by direct customer count, the company said, with Cingular still the largest carrier based on total users on its network.
Revenue from the wireless business itself was up 18.2 percent, marking the fourth straight quarter of 18 percent or more of expansion. The company is also gaining more revenue from each user, it said, and saw wireless data revenues growth to 14 percent of total wireless sales as more users adopt mobile e-mail and Web services.
The wireless growth helped cover up continued weakness in older, legacy parts of the Verizon business, notably its local wireline services. There, the number of subscribers dropped 7.5 percent compared to last year to 46 million lines. Despite the drop, revenue from the wireline division, which includes business customers, was up 7.5 percent.
Verizon is trying to make up for those losses by selling more broadband services to residential customers. The company said it added 448,000 new broadband customers, including 147,000 on its FiOS fiber-optic-based Internet service, which is designed to pave the way for the company to sell a full bundle of services to residential customers, including television services. Despite the sizable investment, FiOS is expected to become cash-flow positive within two years and in wide use by 2010.
The business division — which the MCI buy was primarily aimed at helping — recorded $150 million in savings thanks to the merger during the quarter, with the company saying it remains on target to achieve $550 million in savings by year's end.
Signs of Strength
Speculation was that the sharp loss in residential land lines led to the stock drop. In a conference call, Verizon executives said many of those customers have actually migrated to other Verizon products, such as broadband with a VoIP package.
Still, the pace of the switching suggests rivals, especially cable companies such as Comcast, are making inroads by grabbing customers with triple-play bundles of VoIP calling services, high-speed Internet and cable TV.
Those customers may prove harder to win back in the long-term, even if Verizon can succeed in establishing itself as a TV service provider, something it will have to do market-by-market in many parts of the country due to cable-TV franchising laws.
Still, Verizon and most of the remaining national telecom companies are giving investors plenty to cheer about over the long term, according to telecom analyst Jeff Kagan. "The industry that is now taking new shape is giving the investor reason to feel comfortable and confident," he told the E-Commerce Times. "There's going to be bumps along the way, but the companies that remain have figured out ways to foster growth and find new business opportunities."
The good news for Verizon, Kagan noted, is that its mobile business may help prop it up until its FiOS can become widely available. "There is a fundamental strength in the wireless business and that healthy growth should continue," he said.