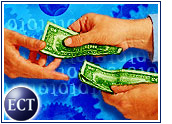 Storage software maker Veritas (Nasdaq: VRTS) has scooped up two smaller firms in deals worth about US$600 million, leading a pre-holiday buying spree by software companies that has rapidly accelerated the pace of industry consolidation.
In a separate deal, business intelligence software firm Cognos said it will pay $160 million in cash to acquire privately held Adaytum, and purchasing company eScout paid an undisclosed sum to take over the online marketplace of B2B software firm Commerce One.
Winnowing the Field
The moves, which came within a 24-hour period, significantly ratcheted up the pace of consolidation in the software sector, a development that observers have long expected.
"Without a clear rebound in the future, some smaller firms had no choice but to seek buyers," Aberdeen Group vice president David Alschuler told the E-Commerce Times. "The industry is going to be much more stable when it's all said and done."
Recently, the financial struggles of some smaller firms may have made customers hesitant to buy their products, Alschuler said. And cash-strapped enterprises are eager to buy multiple solutions from a single provider, enabling them to streamline all of their operations, from bookkeeping to employee training to technical support. Therefore, a company that can cater to those needs will be better positioned in an economic recovery.
Veritas: Big Spender
Mountain View, California-based Veritas inked the largest single deal, plunking down $537 million to acquire Precise Software Solutions, which makes application performance management products.
According to Veritas, the market for boosting performance of enterprise applications will be worth $11 billion per year by 2006. Precise makes products that monitor Web servers and databases for problems that may impact application performance.
The deal values Precise shares at $16.50 each, more than $4 above their closing price the day before the deal was announced.
The second Veritas deal was a $62 million purchase of privately held IT automation software maker Jareva Technologies.
In a conference call, Veritas CEO Gary Bloom said some integration of the two new purchases will be "almost immediate." He added that "this is clearly a vision over time to get a complete solution that goes from end to end. As we sell more often to CIOs, these will be a great addition to our bag of tricks."
Cognos: Strategic Mover
Cognos, meanwhile, said its deal to buy Adaytum gives it a powerful combination of products. Adaytum makes enterprise performance planning software, which Cognos will package with its own business intelligence software and will market as a complete "corporate performance management" solution.
Cognos CEO Ron Zambonini called the all-cash, $160 million deal a "breakthrough acquisition" for his company. He said Minneapolis, Minnesota-based Adaytum booked revenue of $57 million over the past 12 months and has a stable of 1,500 customers, including Toyota, Kellogg's, 3M and American Express.
eScout: Buying the Competition
In the eScout deal, the purchasing company acquired Commerce One's online marketplace, CommerceNet, including customer contracts, intellectual property and computer hardware.
Mark Hoffman, CEO of onetime B2B powerhouse Commerce One, said the deal will enable his firm to focus more sharply on its emerging family of Web services-based software products. eScout, meanwhile, will gain the market share of one of its largest competitors.
Though specific terms of the transaction were not disclosed, Commerce One will receive a larger equity stake in eScout and a seat on that privately held firm's board of directors.