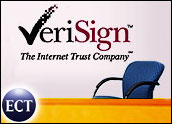 It's party time in blogland. So say analysts in the wake of two successive blog-related acquisitions this week. First, AOL said it would acquire Weblogs, Inc. yesterday. Today, Verisign said it has purchased Weblogs.com.
VeriSign purchased the company and its ping service from Scripting News in a US$2.3 million cash deal. VeriSign said the acquisition will allow it to provide more stable and reliable communications for the Internet's blogosphere.
"The Internet has experienced an explosion in both the number of bloggers and the number of daily RSS feeds from bloggers over the past 12 to 24 months, but the infrastructure to support that level of Internet communications has not kept pace," said Mark McLaughlin, senior vice president of VeriSign's Naming and Directory Services.
"VeriSign is uniquely positioned to provide the scalable, secure infrastructure that the blogosphere needs. Purchasing the ping server architecture of Weblogs.com enables VeriSign to continue supporting the vast numbers of Internet communications and improve the experience of millions of Internet users."
Ping Me
A ping server automatically notifies subscribers when new content is posted to a Web site or blog. Weblogs.com is the original ping server created and developed by pioneering blogger Dave Winer, also one of the pioneers of Really Simple Syndication (RSS).
Weblogs.com currently handles nearly 2 million pings each day and supports thousands of daily RSS feeds from bloggers as well as professional publishers. By migrating Weblogs.com's ping service to VeriSign's ping infrastructure, VeriSign said it will be able to offer the users of RSS and real-time content a robust, intelligent platform as the use of RSS and real-time content continues its rapid growth.
VeriSign said it will continue to operate Weblogs.com as an openly available service, greatly benefiting the entire blogosphere, from individual bloggers to value-addedfeed applications such as blog search services.
Cashing in on Growing Blogosphere
Google got a head start in the blogosphere, but others companies have been catching on to the trend. That's because the number of bloggers and the growth of new blogs per day is on the rise. As of the end of July 2005, Technorati tracked over 14.2 million Weblogs, and over 1.3 billion links. That's just about double the number it tracked five months ago — and the blogosphere continues to double about every six months, according to thefirm.
MSN Spaces, Blogger, LiveJournal and AOL Journals are tapping into software like WordPress and Movable Type to help spawn over 80,000 new blogs every day, Technorati reported. That amounts to about one new blog every 1.08 seconds with more than half of new bloggers still posting three months later, and 13 percent of blogs updated at least once a week.
Blogging Is Not a Panacea
Blogging expert B.L. Ochman, president of WhatsNextOnline.com, told the E-Commerce Times she is thrilled to see blogging pioneers rewarded for their efforts to push the adoption of blogging — but she said she is also a little nervous.
"Some people think blogs are a magical elixir and they aren't. I am glad to see that blogs will be made more mainstream and that they'll get the attention of more people and our audiences can grow, but they are just Web sites. It is all about the content — it's about the bloggers," Ochman said. "I am afraid the bloggers are not the ones getting rich."
For VeriSign's part, Ochman said buying Weblogs.com was a good move. Not only does Weblogs.com have a great URL, it has a great technology, she said.
"The ability to ping other sites is one of the reasons that blog content is so freshly updated in the search engines," Ochman said. "VeriSign now has a part of the infrastructure that's really important to the blogosphere."