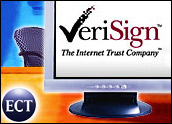 Hoping to put its run-in with the options backdating scandal to rest, VeriSign said on Thursday it will replace its chief financial officer and restate results for four full years.
VeriSign, which serves as the registrar for the dot-com and dot-net domains and offers Web security and related services to businesses, said it would take a charge of around US$160 million to account for the restatement of results from 2002 to 2005.
The amount of the restatement was well below the $250 million in charges the company said earlier in the year it could incur as it its revised filings.
Finding Problems
The Mountain View, Calif.-based company's internal review found problems with some 8,164 stock options separate grants made on 41 occasions starting in 1998, it said.
VeriSign had previously said that its internal review found no wrongdoing by members of executive leadership, and instead saidinaccurate record-keeping and a process of granting stock options that included a "high degree of informality and relatively little oversight" led to the mistakes.
In most — but not all — cases, options grants were timed to coincide with times when VeriSign stock was trading at a relatively low price, boosting the value of those grants to the executives who received them. In all, the misdating understated the true value of stock grants by $160 million.
VeriSign also filed a delayed annual report for 2007 with the Securities and Exchange Commission (SEC).
New Chiefs
Verisign disclosed that Dana Evan had resigned on Tuesday as company CFO; Bert Clement, who had been serving as a senior vice president of finance and controller for the company, will replace Evan.
Evan became the second C-level executive to leave the company in the past two months. In May, CEO Stratton Sclavos resigned after the investigation found he had received misdated stock options. Evan had also received some of the misdated grants, though VeriSign emphasized neither executive had a direct hand in the mishandling of the dates.
VeriSign is one of dozens of companies to have to addressed stock options dating issues in recent months and one of several techconcerns that has seen high-level executive departures as a result. Monster.com, CNET and chipmaker Broadcom have all seen CEOs and other executives depart after options issues were uncovered.
Other companies such as Apple, have been able to keep their executiveranks intact and regulators have indicated they are not going to pursue every options backdating scandal, giving companies broadlatitude to resolve the issues on their own.
Having executives depart as options messes are addressed can help a company get a fresh start after such a scandal, said Enderle Group Principal Analyst Rob Enderle.
"The company can get a fresh start and say that everyone who benefited or may have had a hand in this is no longer here," Enderle told the E-Commerce Times.
Companies have also been careful to take their time in arriving at their solutions, such as restatements and resignations. "They're able to say they took the time to get the whole story and have put the problems behind them," he added.
Time to Shine?
Settling the options issues would be a timely development for VeriSign, which seems poised to post strong results going forward as it finds new ways to leverage its role as the main registrar of the most popular Web domains.
VeriSign appears poised to be able to raise prices for domain registration in coming years after settling a dispute with the Internet Corporation for Assigned Names and Numbers (ICANN), Jeffries & Co. analyst Katherine Egbert told the E-Commerce Times.
Price hikes would help maximize the value of recent cost-cutting efforts, even as it invests in more security and capacity for the domain name system. "The price increases add little variable cost toVeriSign and should roll directly to the bottom line," Egbert said.
VeriSign shares were up nearly 2.5 percent in afternoon trading Friday to $33.80, a price that would represent a new 52-week high for the company.
VeriSign is set to report second-quarter earnings on July 26, and Egbert said expectations are that the company will exceed its own forecasts with strong revenue growth from security and domain management.