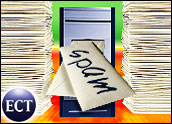 The United States is still the top spam-relaying country, but Asia could soon dethrone it as the spam king, a new study says.
Sophos' latest "Dirty Dozen" report on the top 12 spam-relaying countries during the first quarter of 2006 concludes that the United States is still sending more spam than any other nation despite its aggressive regulatory efforts and continued headway in reducing spam.
However, China, Hong Kong, South Korea, Japan and Taiwan together account for almost half of the worldwide spam output, making Asia the top offending continent. When ranked by continent, North America and Europe vie for a close second.
"Although we're seeing a worldwide increase in zombies, hijacked PCs infected by malware, Americans have vigilantly increased protection on their computers from malicious hackers resulting in a significant decrease in spam coming from the United States," said Ron O'Brien, senior security analyst at Sophos.
The Dirty Dozen
The U.S. accounts for about 23 percent of all spam, with China coming a close second at nearly 22 percent. South Korea, meanwhile, ranks third with 10 percent.Beyond these countries, the percentage of spam is quite small.
France ranks fourth among Sophos' dirty dozen with about 4 percent of spam coming from this European nation. Poland, Spain, Germany and Brazil are the next in line, each with between three and four percent. Two percent or less of the world's spam comes from Japan, the United Kingdom, the Netherlands and Taiwan.
Legislative Efforts
Aided by legislation such as CAN-SPAM and greater information sharing by Internet Service Providers, the U.S. has led the way in imposing severe penalties and fines for its most prolific spammers, Sophos noted.
"I don't know if we can truly stop 100 percent of spam," Coalition Against Unsolicited Commercial E-Mail co-founder John Mozena told the E-Commerce Times. "We've still got murder and robbery going on. We haven't been able to stop these things with laws. Spam is a social problem. We need to create reasons to scare spammers from sending spam in the first place, like fines and jail sentences."
That's beginning to happen. During the first quarter of 2006, several members of a group responsible for distributing massive quantities of pornography admitted their involvement in a criminal spam ring. Jennifer Clason of New Hampshire, Andrew Ellifson of Arizona, and Kirk Rogers of California were part of a ring that spammed out millions of e-mails advertising hardcore adult Web sites, and are scheduled to be sentenced in the next few months.
Australia's Anti-Spam Efforts
Earlier this month the Australian Communications and Media Authority successfully prosecuted its first spammer under Australia's Spam Act Laws. During the past 12 months, Wayne Mansfield of Australia and his company Clarityl sent more than 56 million spam messages around the world.
"The United States continues to be successful in prosecuting spammers andnow we're seeing countries like Australia join the efforts to reduce spam by prosecuting known spammers," O'Brien said. "Spam is produced from zombiecomputers, which can come from anywhere in the world. In order to continue thedecline of spam, it's important that computer users in every continent place astrong effort into preventing computers from becoming zombies."