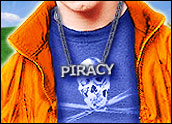 The U.S. Department of Justice has launched its most comprehensive attack to date on software, music and movie piracy, conducting more than 100 raids in 10 countries and seizing scores of computers.
Operation Fastlink, as the push is known, involved 120 searches in 27 states as well as nine other countries, ranging from Northern Ireland and Germany to Singapore and Israel. Authorities said the computers and servers they confiscated contain nearly US$50 million worth of illegally copied intellectual property.
Although no arrests were immediately announced, the DOJ said it has identified nearly 100 individuals who it believes are "the leaders or high-level members of various international piracy organizations" trading in so-called "warez."
Among the groups targeted are Fairlight, Kalisto, Echelon, Class and Project X. The DoJ said its efforts likely will cause some of the groups to crumble, while in other cases its actions will "seriously impact illicit operations."
"Intellectual property theft is a global problem that hurts economies around the world," U.S. Attorney General John Ashcroft said in announcing the raids. "To be effective, we must respond globally."
Well-Timed Attack
DOJ spokesperson Bryan Sierra said the raids had to be timed to happen together to be effective.
"Because these are organizations that use the Web to communicate quickly, a traditional law-enforcement approach of targeting individuals and then moving up hierarchy would not have worked," Sierra told the E-Commerce Times. In such a scenario, evidence collected in the raids could have been destroyed before law enforcement arrived, hampering the investigation.
He said it will take investigators a short time to formalize charges against individuals involved and that the procedure followed will vary, depending on the location of individuals.
Welcome News
That promise to keep pressure on pirates is no doubt welcome news to the music, gaming, software and movie industries, which all claim to have been affected by Web-enabled piracy to various degrees. The software and music industries have been particularly hard-hit, though recent studies have cast doubt on how much real damage has been done by, for instance, pirated digital music.
Still, Aschcroft said the targets of the raid represent hundreds of millions of dollars of illegal activity — and lost revenue for legitimate businesses.
"The amount of international coordination and cooperation in this effort is unprecedented and will send a clear and unmistakable message to those individuals and organizations dedicated to piracy that they will no longer be protected by geographic boundaries," Ashcroft said. "We are committed to combating this theft and will pursue these thieves regardless of their location."
Business Software Alliance president Robert Holleyman told the E-Commerce Times that the raids' international reach is key because many pirates use their offshore locations to funnel stolen software and other materials back to users in the United States. The BSA estimates piracy results in $13 billion worth of losses each year.
"Hopefully, the message that the reach of law enforcement is as wide at the Internet itself will be a strong deterrent to would-be pirates," Holleyman said.
Wary of Warez
The DOJ said it focused on warez "release groups," where stolen or pirated materials are first made available. From there, the materials become widely distributed through peer-to-peer file-sharing networks and other channels.
The DOJ's approach — targeting those atop the hierarchy of piracy — differs greatly from the tactics used by the Recording Industry Association of America and others to target end users of file-sharing networks. The RIAA's lawsuits against individuals have been controversial but also have been seen as curtailing music swapping and related activities.