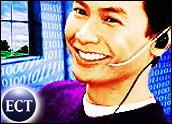 United Parcel Service (NYSE: UPS) announced a new e-commerce returns service Wednesday designed to help the Atlanta, Georgia-based company gain a larger slice of the delivery market in time for the coming holiday rush.
"UPS Returns on the Web," as the program is called, is a browser-based system that runs on UPS' own servers and allows customers to print return labels directly from their PCs. Once a label is printed, consumers can take the package they wish to return to local drop-off locations — for which the site provides full-color maps — or hand it off to one of the company's 70,000 drivers.
Merchants may also elect to have the UPS drivers pick up the returned item up at the customer's home.
Buy.com Pilot Program
UPS vice president of e-commerce Ross McCollough said in a teleconference that the service is an extension of a pilot program with online retailer Buy.com (Nasdaq: BUYX) that has been operational since June. Before the advent of the service, customers wishing to return items would have to wait as long as a week for a shipping label to be mailed to them.
Under the new system, package labels can be printed out in seconds on regular paper — and without anyone ever having to talk to a customer service representative. Buy.com says that it has experienced a 40 percent drop in return calls since it launched the program.
"UPS' Web returns program has helped us increase customer satisfaction at the same time we're reducing our returns cost and improving our inventory management," said Buy.com vice president of operations Tom Wright.
More Info for E-tailers
Besides saving time and the expense of fielding telephone calls from dissatisfied customers, UPS' service is also designed to provide e-tailers with information to deal more effectively with items being sent back to them. By learning ahead of time whether returned products are defective or simply no longer wanted, companies will be able to determine immediately whether to return the item to their warehouses or send it back to the manufacturer.
E-tailers pay a transaction fee as well as delivery charges once the return is completed.
Christmas Competition
With the holiday season approaching rapidly, Web merchants are eager to avoid both the headaches and negative press associated with package delivery problems. Although UPS insists that timing had nothing to do with the rollout of the program, spokesman Steve Holmes says that the company has already signed up an unnamed number of e-tailers who, for the moment, wish to keep their participation secret.
"The companies don't want to let it go out now because they don't want their competitors out there trying to get it too," Holmes told the E-Commerce Times. "Delivery and transportation programs have become such a competitive advantage in the industry that companies don't want to let other people know what they can offer."
Founded in 1907, UPS is the world's largest package delivery company. Last year the company generated revenues of $27.1 billion (US$) and handled over 3.2 billion packages and documents in over 200 countries worldwide.