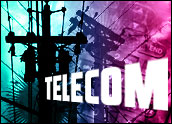 To many telecommunications customers, the Universal Service Fund, or USF, is one of several hidden costs of making long-distance phone calls. It is one of a handful of government fees that appear on each month's phone bill. Currently, customers pay a monthly USF charge based on how much they spend on long-distance charges.
Now, however, the Federal Communications Commission (FCC) is mulling a change to a flat-fee, numbers-based system that would charge everyone who owns a phone number a single monthly fee.
All Access
Supporters say the change would continue to maintain the fund — which is funneled to provide telecom access for poor and rural residents by setting up telecom and Internet access points in schools, libraries and other public locations — while also simplifying the collection of the fee at a time when everything about telecommunications is becoming increasingly complex.
The change enjoys widespread support and is seen being adopted in time. Some in the telecom industry say the FCC should proceed with caution, however, to avoid harming the very people the USF was established to help, urging exemptions for free phone services and cautioning that the exploding VoIP landscape complicates any discussion of telecom fees.
"The FCC seems to be saying they need a more simplified system," Craig Walker, CEO of Grand Central Communications, a VoIP applications firm launching this summer, told the E-Commerce Times.
Walker, a former executive at VoIP firm Dialpad, which was purchased by Yahoo, is also actively involved in programs that give free phone numbers and voice mail services to the homeless. He said taxing those customers could undermine the very intention of the USF.
"We support the USF and its mission," he added. "All we're saying is the FCC has got to think it through. There may be unintended consequences from this."
Seeking Simplicity
Mike Basch, a Tax Research Specialist with tax software maker Vertex, said many see the change requiring that low-volume phone users essentially subsidize those who make more calls.
"Even if you make no long distance calls, you still have to pay a fee," Basch told the E-Commerce Times.
Basch said the main argument against the change is that a monthly flat fee system is unfair. "It shifts the burden of the USF to those it was created to help — Americans with low or fixed incomes, residential consumers and those who use little or no long distance a month," he added.
Critics say "big business users would be paying the same USF fee as you or me," he noted. "In fact, we would be subsidizing them."
A group called Keep USF Fair has said that the shift to a flat fee would "impose a steep financial burden on millions of seniors and low-income phone users."
"There are valid arguments on all sides of this issue," said Walker. "There is an argument to be made that someone with a US$2,000 a month long-distance bill should be paying more into the fund than someone who doesn't make any calls."
The FCC is attempting to address the changing industry, which makes it difficult to separate long-distance from local calls, Shirley Bloomfield, the vice president for government affairs for the National Telecommunications Cooperative Association, told the E-Commerce Times. For instance, a VoIP user may call his next-door neighbor, but the packets of voice may be converted to data in a distant telecom center.
"The definition of what is a 'number' will become very important in this discussion," Bloomfield said. "Is a number a working phone number? An IP identifier? Something that captures successor technology? It will be important to ensure a contribution basis that will ensure an expanded base of those who contribute to USF."
Bloomfield added that the impact of a flat-fee approach will be felt most by those who use long-distance calling the least. For that reason, the AARP and the Consumers Union have raised red flags about the proposal, she noted. "From the proponent's perspective, it appears to be easier to administer, but that would only be after some serious work would be done on the actual numbers definitions — and ways to keep that definition evolving," she said.
Timing Is Everything
The change comes at what some say is a critical time, when technology is enabling even the poorest and most displaced people to have access to telecommunications services for the first time ever.
Grand Central's Walker recently took part in an event in which homeless in San Francisco were given free phone numbers and voicemail, allowing them to put a real, local phone number on job applications.
That initiative, known as Project CARE, is being duplicated in other major cities, with some efforts even receiving subsidies from the USF already.
"A phone number can make a huge difference for a homeless person," Walker said. "It makes them part of the social fabric again. All they need is access to a pay phone and they can retrieve their voice mail and their employer never needs to know they're displaced."
As a telecommunications applications provider, Walker said he's "more than happy to pay" into the USF. "The question is the methodology and all we're saying is there needs to be some exemption for truly free services," he said. "Otherwise, you risk undermining exactly what the fund was set up to do."