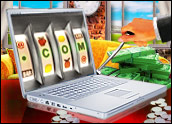 Shares of major overseas Internet gambling companies took a heavy hit Monday after news broke that U.S. investigators had launch a fresh probe into Web-based gambling.
The U.S. Department of Justice has reportedly sent subpoenas to as many as 15 investment banks across Europe and the U.S., seeking information on their dealings with companies such as UK-based PartyGaming and gambling friendly payment networks such as Neteller.
Major investment houses including Deutsche Bank, HSBC and JP Morgan were reportedly among those subpoenaed.
It is not clear exactly what information the investigators are seeking or whether the banks themselves could face prosecution. Some of the companies helped underwrite IPOs for gaming firms when they went public in the UK.
A spokesman for the Department of Justice declined to comment on reports in the Financial Times of London saying that phone records and other documents were being sought by prosecutors working in the U.S. Attorney's office for the Southern District of New York.
The news came just days after the founders of Neteller were arrested and charged with helping to funnel billions of dollars in gambling proceeds to overseas operations.
Observers said the timing may also be significant because the single busiest betting day on the sports calendar — Super Bowl Sunday — is now less than two weeks away.
Crackdown Continues
Though many in law enforcement argue that Internet gambling has essentially been illegal in the U.S. under decades-old laws, President Bush in October signed a bill that made it a crime to for banks and credit card companies to make payments to online gambling sites.
Under the new law, major gambling companies such as Sportingbet and Leisure & Gaming could face bankruptcy since a significant portion of their revenue and profits came from United States-based gamblers.
Those two companies sold their U.S. operations for $1 in moves that were seen limiting their exposure to legal risk while enabling them to turn their attention to Europe, Asia and other markets.
Even before that law was passed, U.S. prosecutors had taken action against gambling company executives, arresting several current and former executives when they traveled to the U.S.
On Monday, major gambling companies saw their shares hammered in trading in the UK, with some stocks off as much as 14 percent.
U.S. Authority is Questioned
Some UK government officials expressed displeasure over the move to subpoena banks, questioning whether U.S. investigators were overstepping their boundaries in doing so. Many of the investment banks reported to be involved, however, have U.S. subsidiaries or significant American operations.
Those questions of international legal authority have long hounded the debate over Internet gambling and will continue to do so, said Christiansen Capital Advisors analyst Sebastian Sinclair.
Even though some European gambling companies have backed off the U.S. market, the sheer size of the opportunity has kept some Caribbean-based interests in operation despite the threat of the newly passed law.
"The international legal issues are just beginning to be tested," Sinclair said. "The U.S. market is not something gambling companies will give up on easily."
New Charges Filed
Prosecutors have already filed charges against several Internet gambling interests. Last year, former BetOnSports CEO David Carruthers was arrested and charged. Later, Sportinbet Chairman Peter Dicks was detained when he flew to New York City.
The U.S. government's actions are having a chilling effect, convincing the more legitimate betting sites to eschew the American market and help curtail Internet gambling, which critics say is rife for abuse and can easily be accessed by minors who would not be able to place bets in other settings.
Conversely, the aggressive moves by prosecutors will leave the less savory gaming sites intact, which may leave betting consumers at risk for fraud.