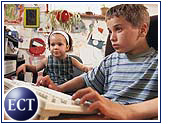 The U.S. Federal Trade Commission (FTC) said Thursday that three Web sites have agreed to pay US$100,000 in fines to settle the first prosecutions under a year-old law designed to protect children's identities online.
The parent companies of Girlslife.com; Bigmailbox.com and Insidetheweb.com settled charges that they illegally collected identifying information from children under the age of 13 on their sites.
The FTC announced the settlement almost a year to the day after the Children's Online Privacy Protection Act (COPPA) went into effect. The cases were the first successful prosecutions under the law, which requires Web site operators to obtain the permission of parents before collecting private data on children.
Some Progress
"We're encouraged by the progress the Internet industry has made in the past year in complying with COPPA," FTC Bureau of Consumer Protection director Jodie Bernstein said.
Bernstein noted that more than 90 percent of Web sites aimed at children now post privacy policies, compared to less than one-quarter three years ago. However, Bernstein said that the civil fines against the three violators showed that the FTC will prosecute when necessary.
"We intend to take enforcement action against those who don't comply with the law," she said.
Aimed at Kids
All three of the fined sites had young Internet users as at least part of their audience.
To settle the FTC charges, Girlslife, a community Web site, will pay $30,000, while Looksmart Ltd., the parent of Insidetheweb.com, and BigMailBox will pay $35,000 each.
The FTC said that all of the sites collected information such as names, addresses and telephone numbers of children and failed to post privacy policies clearly. Under the settlement, all information previously collected will be destroyed.
Lagging Behind
A recent study from the Annenberg Foundation found that while progress has been made, with fewer sites asking intrusive questions of children, many still failed to clearly post a privacy policy or a link to a policy on their home pages.
While the current cases were the first COPPA prosecutions to result in fines, the FTC did use the law as part of its case against defunct e-tailer Toysmart, which planned to sell the personal data it had collected as an asset. That information was eventually destroyed and the case dropped.
The FTC has had a busy week on the Web privacy front. On Wednesday, the agency announced that it had filed suit against three data-mining firms that allegedly used illegal tactics to obtain and resell confidential financial data.