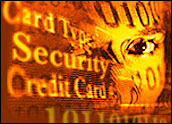 An "information age undercover investigation" led by the U.S. Secret Service has arrested 28 individuals in eight states and six foreign countries who were accused of being involved in a global cyber organized-crime network.
Charges against the suspects include identity theft, computer fraud, credit card fraud and conspiracy, all in a sting called Operation Firewall.
"These suspects targeted the personal and financial information of ordinary citizens as well as the confidential and proprietary information of companies engaged in e-commerce," U.S. Secret Service Director W. Ralph Basham said.
The groups allegedly used Web sites to promote and facilitate a wide variety of criminal activities, including electronic theft of personal identifying information, credit card and debit card fraud, and the production and sale of false identification documents.
$4.3 Million Loss
After initial contact via the Internet, the suspects allegedly exchanged stolen information and counterfeit documents, such as credit cards, driver's licenses, domestic and foreign passports and birth certificates.
The suspects collectively trafficked in at least 1.7 million stolen creditcard numbers, and financial institutions have approximated their actual losses associated with the suspects to be more than US$4.3 million.
However, authorities said that estimates of losses to the industry had this criminal enterprise not been disrupted amount to potentially hundreds of millions of dollars.
"Identity theft carries a heavy price, both in the damage to individualswhose identities are stolen and the enormous cost to America's businesses," U.S. Attorney General John Ashcroft said.
"This indictment strikes at the heart of an organization that is alleged to have served as a one-stop marketplace for identity theft," Ashcroft said.
With the holiday shopping season fast approaching, the international arrests leave one question in the minds of e-tailers: Will this sway online consumer confidence one way or another?
Deterrent Effect
Ed Moyle, principal of information security firm Security Curve, told the E-Commerce Times the arrests should ultimately help calm the fears of some customers who are deciding whether or not to shop online.
"In the electronic space, we haven't had a lot of big wins against fraud," Moyle said. "But this is a pretty big win. So I think it will have a deterrent effect on the criminals and inspire confidence in shoppers."
The indictment is the result of a year-long investigation. Operation Firewall began in July 2003 as an probe into access-device fraud. The case evolved into a highly technical, transnational investigation involving global credit card fraud and identity theft over the Internet.
The United Kingdom's National Hi-Tech Crimes Unit, the Vancouver Police Department's Financial Crimes Section, the Royal Canadian Mounted Police, Europol, as well as agencies in Bulgaria, Poland, Sweden, the Netherlands and Ukraine also provided assistance in Operation Firewall.