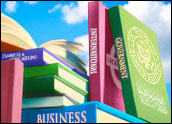 This is a followup to an article that I wrote for the E-Commerce Times entitled "Why Publishers Are Afraid of Amazon." In that article, I mention that Amazon is now facilitating those authors who choose to self-publish. I also mention that The New York Times recently quoted Russell Grandinetti, one of Amazon's top executives, who said, "The only really necessary people in the publishing process now are the writer and the reader. Everyone who stands between those two has both risk and opportunity."
If there ever was a watershed time for traditional publishers, it is now. In fact, some current-day publishers remind me of newspaper publishers of the past who seemed to have ignored the fact that e-publishing was here to stay. They thought that the print model, a la Gutenberg, was not going away. Nothing seems to be further from the reality and the truth.
How Amazon Is Facilitating Authors to Self-Publish
The simple answer is that Amazon owns a company that is determined to make self-publishing easier. That company is called CreateSpace. Amazon says this about CreateSpace: "CreateSpace, a member of the Amazon group of companies, provides one of the easiest, fastest and most economical ways to distribute your content to millions of potential customers on Amazon.com and other channels."
This may not sound like a challenge to Gutenberg and the printing press, but it surely will diminish the importance of traditional publishers. Amazon still recognizes the fact that some people choose to read a print book, thus we have CreateSpace, which makes it quite easy to upload your finished manuscript and have CreateSpace print that manuscript in paperback form.
Of course, Amazon has gone one step further and allows authors to upload their book into a Kindle format (which, incidentally, is also available on the iPad). Thus we have an author who has the choice of going directly into print book publishing, e-book publishing, or both. If the author decides to publish his/her manuscript in both print and e-book form, he or she must then upload it to both CreateSpace and Kindle Direct Publishing, another Amazon company. In my experience, both formats are relatively easy to use.
Obviously, the most difficult part for the author is to create the manuscript. After that, it's a matter of uploading the format to Kindle Direct Publishing and/or CreateSpace. These two companies then check the manuscript out for formatting (a relatively rapid process) and voila, the "books" are out there for the public to read. Just about as easy as pie.
The CreateSpace Model
Here is the CreateSpace model quoted directly from its site:
"CreateSpace, a member of the Amazon group of companies, provides one of the easiest, fastest and most economical ways to distribute your content to millions of potential customers on Amazon.com and other channels.
"Media formats supported through CreateSpace include books, DVDs, CDs, video downloads and Amazon MP3s.
"With the CreateSpace manufacturing-on-demand model, your products will be produced as customers order, so you don't have to make an up-front investment in inventory. Plus, CreateSpace takes care of the customer service and order fulfillment on your online retail orders, so you can focus on promoting your titles."
As a financial man, the part I most like about the CreateSpace model is that there is absolutely no investment in inventory. That means that the author, now the equivalent of the publisher, has no inventory costs or unused inventory risks. The author merely has to spend full time promoting the book. As orders come into CreateSpace, they print the order, and then quickly ship it out.
My experience in writing Mother's Guide to Daily Living showed me the marvels of inventory on demand. As people ordered books, they were printed. When I wanted a pile of books for a book signing, I would merely order the books at author's prices and the books would be at my doorstep within a matter of a few days (even sooner if I wanted to pay for expedited shipping).
An Instant Return Phone Call for Assistance
To my amazement, I soon realized that if I wanted technical assistance and support, I didn't have to send an e-mail, await for a return e-mail, then set up an appropriate time for a conversation with someone who could assist me in the publishing process or with a technical question I might have.
I merely had to press a "call me" link on the CreateSpace website and, believe it or not, I would instantly receive a return call. I then answered my phone and a recorded message said that I would be connected with the next available technician. Initially, I thought "here's the gimmick, I'll be put on hold forever." In reality I found out that I would be quickly connected with a highly competent technician/assistant who invariably knew what she/he was talking about and was able to assist me immediately.
If I had a particular question about later edits that I made to my book and whether or not CreateSpace had received the edits, the technician could "look into my book" and immediately advise me of the status of any editing updates that I had made. When the rare occasion occurred that the person wasn't able to assist me immediately, I was promised a quick return call (which I invariably received) by someone who could assist me.
Just amazing service!
Caveat to Traditional Publishers
I am fully aware that the traditional publisher, especially a well-established one, has an advantage when it comes to promoting a book and distributing it to likely outlets. This is especially true if a famous and well-established author wrote the book. I would caution the publishers, however, that CreateSpace is aware of the promotional and distributional needs of the author. In fact, here's what they say to that point on their website:
"CreateSpace now offers a full array of self-publishing services to assist you through every step of the publishing process. Whether you are still refining your book's content, ready to turn your finished manuscript into a beautifully designed book, or looking for new ways to energize your book marketing efforts, CreateSpace services can help you meet your goals.
"Editing: Have a professional editor review your work and provide suggestions for improving your book's content.
"Book Design & Layout: Let a professional book designer work their magic with your manuscript. With your input, CreateSpace can custom-design your book's cover, interior or both!
"Marketing: Work with our marketing specialists to create buzz for your book"
So, to the traditional publisher I would say that now is a good time to dust off your business model.
Good luck!