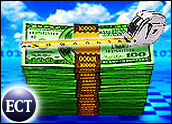 Once again, technology entrepreneurs played a prominent role in the Forbes 400, the annual list of the wealthiest Americans, with Google cofounders Larry Page and Sergey Brin breaking the top 10 for the first time, though the arrival of several hedge fund billionaires helped dilute the impact of tech.
Microsoft Chairman Bill Gates remained at the top of the list, with a net worth of US$59 billion. Page and Brin, who each have a net worth estimated at $18.5 billion, made the top 10for the first time, ranking fifth. While Microsoft cofounder Paul Allen fell out of the top echelon, Oracle CEO Larry Ellison and Michael Dell, founder and now CEO again of his namesake PC company, were also in the top 10.
Overall, half of the top 10 was made up of tech sector billionaires, though most of the newcomers to the overall list were from the hedge fund and investment banking world.
$1B Not Enough
For the first time ever, $1 billion in wealth was not enough to make it onto the list, Forbes said, with entry onto the last spot on the list — a position held by several people, including New York Yankees owner George Steinbrenner and the cofounders of the Ultimate Fighting Championship League — requiring wealth of at least $1.3 billion.
Familiar technology names continue to dominate the top 50. eBay founder Pierre Omidyar is No. 32 on the list with a net worth of $8.7 billion while Amazon.com founder Jeffrey Bezos sits at No. 35 with $8.7 billion. Google CEO Eric Schmidt ranks 48th with $6.5 billion.
Apple CEO Steve Jobs, meanwhile, falls into the next tier, ranking 56th overall with a net worth of $5.7 billion.
Hedging Their Bets
Founding a tech company isn't the only way to get onto the list from the tech ranks, with several high-profile tech executives also wealthy enough to make the list, including eBay CEO Meg Whitman, who ranks 361st with $1.4 billion and onetime Cisco CEO John Morgridge at No. 220 with $2.1 billion.
Being an early backer of tech giants is another path onto the list, one taken by Google backer Kavitark Shriram, who is at No. 271 with $1.8 billion, most of it from Google stock.
While old standbys such as oil and real estate still dominate, new job titles such as leverage buyout and hedge fund managers are appearing more frequently on the list, many for the first time. The leaders of firms such as Blackstone Group and KKR appear on the list for the first time in 2007. Even legendary junk bond king Michael Millken still makes the list — with $2.5 billion, enough for 165th place — despite his 1990 conviction on securities fraud charges.
Giving Back
The tech billionaires have already begun to leave their mark on the world in other ways as well. eBay founder Omidyar recently said he would donate $100 million to Tufts University to be used in a micro-financing project meant to help businesses be started in emerging economies.
"The dot-com era made many millionaires whose wealth didn't last, but the list shows that the technology economy has made some billionaires who as a result are in a position to change society in a meaningful way," Enderle Group Principal Analyst Rob Enderle told the E-Commerce Times. "These people saw their technological innovations change the way the world works and they want to find other ways to continue that."
Gates' philanthropic efforts have been well-documented, meanwhile, with he and wife Melinda giving away billions through the Gates Foundation to build and equip libraries, fight AIDS in Africa and bring technology into underprivileged schools. Last year, the Gates' efforts got a huge boost when fellow billionaire — and No. 2 on the list this year — Warren Buffett said he would turn over a significant portion of his fortune — over time, as much as $40 billion — to the foundation.
Others have found specific issues to make their passions as well. Siebel Systems founder Tom Siebel now heads up the Montana Meth Project, an effort meant to reduce the prevalence of methamphetamine use among young people in that rural state.
Siebel's foundation gave $5 million to the project last year and Siebel himself recently testified before Congress on the scourge of the dangerous drug.
More recently, Brin and Page began seeking ways to give away some of their fortunes, establishing a non-profit charitable foundation last year.