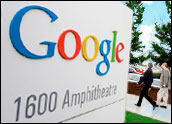 Google Chief Financial Officer George Reyes, who came on board to give a fast-rising startup credibility with Wall Street and help lead it through a quirky but wildly successful IPO, will leave the search company by the end of the year, Google announced late Tuesday.
During Reyes' five-and-a-half-year tenure, Google staged and pulled off the Dutch auction initial public offering that was one of the hottest tech IPOs of the past five years, and stuck by a controversial philosophy of not giving forward-looking guidance from quarter to quarter.
Reyes, who is retiring at age 53, called his time at Google "an extraordinary ride," and said he is confident he leaves the company "in good hands."
CEO Eric Schmidt, who was a colleague of Reyes' at Sun Microsystems before both joined Google, also credited Reyes with helping the company navigate the regulatory landscape and "the management challenges of scaling a global finance organization."
"George has been a full partner in Google's global growth and development," added cofounder Larry Page, who said Reyes helped keep Google "financially disciplined while protecting the best of our entrepreneurial culture."
Orderly Transition Seen
Reyes will stay on until the end of the year if needed to help ensure an orderly transition, Google said. However, it did not provide any other details on its search, except to say that Reyes would assist in finding his replacement.
Investors seemed convinced any transition would be an orderly one, with Google shares up modestly in morning trading Wednesday to US$507.77.
Enticing a replacement to take over might be harder than it appears on the surface, search expert and Google book author John Battelle told the E-Commerce Times.
"The future for the new CFO is going to be rough," Battelle said, comparing Google today to the period at Microsoft after its growth began to slow.
Revenue growth at Google, while still robust, is no longer guaranteed to be comfortably in the double-digit range, and Google's most recent quarterly report saw it miss Wall Street forecasts for profit growth. "The new CFO has to find a way to keep the Street happy when it has come to expect Google to blow away targets every quarter," Battelle added.
Sheer numbers alone make keeping historic growth rates at Google difficult. In the year Reyes was hired, Google made about $440 million; last year, it had revenue of more than $10 billion for the first time.
Still, Google can likely make it very worthwhile for a high-profile executive to take the position. Reyes received salary and bonuses of about $1.7 million, according to Google's filings with the Securities and Exchange Commission, but received about 51,000 stock options with an estimated market value of more than $21 million. Those options come in addition to an estimated $250 million worth of stock options he has exercised since the IPO, according to compensation research firm Equilar.
More Ups Than Downs
By all measures, Google had an extraordinary rise during Reyes' time at the helm of the financial controls, from its $1.9 billion IPO in the summer of 2004 to a long period of stock price growth, with the shares breaking the $500 per share barrier late in 2006. The company also remained aggressive in the acquisition space, buying YouTube for $1.65 billion and more recently, interactive ad agency DoubleClick for $3.1 billion in April.
There were, however, some hiccups along the way, often stemming from Reyes' making off-the-cuff remarks about the company's future prospects. In late 2004, Google was forced to backtrack from Reyes' comments after he spoke about click fraud as a significant risk to the company's business.
Later, he told an investors conference in March of 2006 that Google's growth rate would inevitably slow, a position that other Google executives scrambled to clarify amid a 13 percent plunge in the company's stock price.
Those situations highlighted Google's insistence on eschewing the formal financial outlooks that most public companies give when they report earnings. That policy again came into play when Google missed second-quarter profit targets set by Wall Street analysts, though Reyes and Schmidt said at the time that the miss stemmed primarily from more aggressive-than-expected hiring, which the company feels is necessary to meet growth opportunities.
Looking Ahead
Google could put that miss in the rear-view mirror by beating estimates for the third quarter, said RBC Capital analyst Jordan Rohan, and in the process erase any doubt that the Google CFO post is still a desirable one.
Noting that YouTube has only just begun to show video ads, Rohan said Google's stock has been dragged down by the larger market swoon of the past month and believes the stock is destined to go as high as $560 a share within a year.
"Google continues to gain market share in its core search area and will continue to look for new opportunities to expand its presence on the Internet," Rohan told the E-Commerce Times, suggesting Google could continue to be a growth company for some time to come.
Reyes, meanwhile, becomes the last in a series of high-profile technology executives to announce plans to leave in recent days. Intuit CEO Steve Bennett stepped down last week and AMD said its head of global sales was stepping down as well.