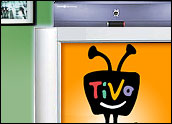 TiVo announced today it has been awarded eight new patents in the U.S. and abroad, with five awarded by the U.S. Patent and Trademark Office (USPTO) that, the company said, cover important aspects of DVD software and hardware design.
TiVo also received three grants from the Chinese and Japanese patent offices and an exclusive license to one of the first DVR patents, know as the Goldwasser Patent, filed with the USPTO.
"From the inception of TiVo, we have placed great emphasis on developing, licensing, and protecting our intellectual property, including our patents, copyrights, trademarks, and trade secrets," said Jim Barton, co-founder and chief technology officer of TiVo. "As our patent portfolio continues to grow, it will continue to be a strategic asset for the company."
Competition Heating Up
Analysts report uncertainty regarding the value of the patents for the company, which already has 70 patents — with 106 more pending — and is currently battling satellite television company EchoStar Communications in an infringement lawsuit.
Meanwhile, TiVo faces increased competition from players such as Comcast and Time Warner, as these industry titans begin offering non-TiVo DVR service to their customers.
Rob Sanderson, equity research analyst with American Technology Research, told the E-Commerce Times that there are a lot of questions surrounding TiVo's patent portfolio that make the company's future appear somewhat hazy.
"It's hard for us as outsiders to look at how much value there is in the patents," he said. "Everyone is thinking about this from the perspective of whether or not TiVo can license the patents or whether or not TiVo can effectively keep competitors at bay because of their intellectual property. We are all curious."
Court Battles in Future
Analysts have said that even if TiVo ultimately turns into a licensing entity, the company would probably have to go through the court process, and a potentially long one at that.
"I'm sure [TiVO's] potential licensers don't believe they are in violation of any patent, at least at this point, and they would go the distance in court," Sanderson said. "That would be a difficult and expensive — and probably long drawn out — process."