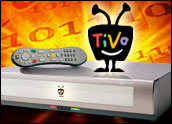 In a move that speaks to online video's momentum,TiVo and Internet TV startupBrightcove on Wednesday announced a deal that will allow TiVo subscribers to receive Brightcove's broadband video programming.
About 400,000 TiVo subscribers who have their set-top boxes connected to the Internet with a broadband connection will be able to watch music videos, news, lifestyle, health and teen programming.
The purpose of the partnership is to make it easy for broadband video publishers to use Brightcove's Internet TV services to distribute content to TiVo subscribers. TiVo did not disclose terms of the agreement with the company, which enables programmers to syndicate shows online.
"TiVo has revolutionized television viewing, and Brightcove is bringing about major changes in consumer viewing of broadband-delivered video," said Tom Rogers, president and CEO of TiVo. "Through this new partnership, the process of delivering Internet-based video to TiVo users will be significantly facilitated."
Phasing In Content
Brightcove may not be a household name, but some of its clients are. Among them are MTV Networks, Reuters, The New York Times, Discovery Communications, National Lampoon, SmartMoney and Farmers' Almanac TV.
The companies have not yet announced specific programming options. Brightcove and TiVo did say that they plan to phase in content partners and new downloading capabilities going forward.
"TiVo has been a powerful factor increasing consumer choice and control over television viewing experiences. The Brightcove partnership will further empower consumers by allowing TiVo subscribers to find broadband video content via their TiVo or PC and send that content directly to their TiVo box where they can view it whenever they choose," said Jeremy Allaire, founder and CEO of Brightcove.
Competing With Cable
Cable operators are encroaching on territory that TiVo once dominated. The Brightcove move appears to be aligned with TiVo's latest strategy to stand out from the competive Digital Video Recorder (DVR) pack. TiVo's challenge is the marketing power cable operators have. Even though TiVo is a pioneer in the field, it has not been as financially successful as its industry leadership would seem to mandate.
"It's ironic that 'TiVo' has essentially become a generic term. A DVR is often referred to as a TiVo even if it is not a TiVo. Despite that fact, the company is still languishing in market share," Inside Digital Media Senior Analyst Phil Leigh told the E-Commerce Times.
TiVo's recent patent lawsuit victory against EchoStar could bode well for the company, though. If TiVo continues to lead the drive to bring broadband Internet programming into the living room, it could be an acquisition candidate for Sony or Apple, Leigh said.
The Advertising Play
Initially, all Brightcove content will be offered for free to TiVo subscribers and advertising may be carried within some programs. However, the partnership opens the possibility of monetizing the distribution through additional advertising, subscription plans or pay-per-view.
Also this week, TiVo launched its new advertising search product called "TiVo Product Watch," which offers advertisers a new way to reach its subscribers who are actively looking for products.
TiVo subscribers will be able to create searches and select advertising-related programming, ranging from one minute to 60 minutes, from any of five different product categories of interest and have it delivered directly to the Now Playing section of their TiVo system. TiVo Product Watch will also offer subscribers the ability to create a search based on their favorite brands.
"The good news for consumers is that TiVo has to innovate in order to differentiate itself in the market," Leigh noted. "What's fascinating is that it has come up with really intriguing innovations. TiVo really points the way to the future."