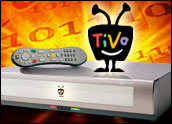 TiVo and Google have struck a deal that will enable the digital video recorder maker's users to watch Web-based YouTube videos on their television sets.
The service will be available later this year to consumers who own its Series 3 devices connected to the Internet through a broadband link, TiVo said.
With the service, users will be able to utilize their remotes to log into YouTube and search for, browse through and watch videos on their TV sets utilizing the TiVo user interface. Once logged in to the site, users will be able to access their Web-based favorites lists and preprogrammed channels.
'Another Major Step'
Tara Maitra, vice president and general manager of content services at TiVo, called the partnership "another major step in our commitment to combine television and Web video viewing options in one easy-to-use service."
Financial terms of the deal were not disclosed; TiVo did not say whether Google would serve ads alongside the YouTube videos. The ability to do that could give Google an expanded foothold in the video advertising marketplace that goes beyond the Internet.
The Apple TV device, launched last year as a way of slinging content from the Web to the TV, also enables YouTube videos to be watched on traditional television sets.
Ubiquitous YouTube
TiVo has embraced the Web-TV convergence, trying to get in front of the changes in the entertainment world in a bid to stay relevant as vastly more content becomes available on-demand, either through cable or satellite TV providers or online.
For instance, TiVo and Amazon have partnered to enable users to download full-length movies directly from Amazon Unbox, its digital movie site. More recently, TiVo announced it was preparing to make available to marketers the data on user viewing patterns that it is able to collect thanks to the fact that users connect to the Internet in order to obtain updated program information and software updates.
Google has been more aggressive in pushing YouTube lately, meanwhile, as it prepares for the launch of Hulu.com, the Web video startup backed by NBC and News Corp.
Earlier this week, Google said it would make programming code and APIs (application programming interfaces) for YouTube available through the YouTube Everywhere program, enabling third-party Web sites to embed YouTube capabilities for viewing and uploading videos into their sites. It also said a new version of Electronic Arts' "Spore" video game would have YouTube capabilities built into it.
Hulu officially opened to the public on Wednesday after about six months in beta form. The site is less of a viral video site and more of a distribution point for professional content, said JupiterResearch analyst David Card.
"YouTube has captured the user-generated video niche," Card told the E-Commerce Times.
With millions of video views daily, the site has shown it can draw eyeballs and leverage the social element to create traffic. Whether that will translate to a financially successful business and one capable of working across platforms remains to be seen, Card added.
Survival of the Fastest?
TiVo has been forced to adapt to its own set of changing market conditions. While it was the first to market, it has seen cable companies roll out their own DVR offerings to package with subscription plans. Perhaps more importantly, the very time-shifting that TiVo made its reputation on has become less important as more networks make programming available on-demand.
"TiVo has been forced by the changing landscape to find a new hook," Yankee Group analyst Michael Goodman told the E-Commerce Times. "It hopes to make its DVR a platform for getting entertainment content into the home."
Indeed, in addition to downloading movies from Amazon, TiVo boxes can be used to subscribe to streaming music services and to download original content through partnerships with independent cable channels.
The YouTube deal adds to the content lineup, and it's easy to see how consumers who enjoy the user-generated content on the Web version may be interested in shifting that content to their TV sets. A Yankee Group survey conducted last year found that only 10 percent of households with broadband connections would pay to download movies to their personal computers, while nearly half expressed interest in downloading full-length films if they could watch them on the television sets.
Apple has tried to build that bridge with the Apple TV, though that device is widely seen as still a niche play favored by Apple enthusiasts rather than a mass market play, at least so far. By comparison, millions of TiVo devices are already in living rooms around the world.
Still, Goodman said, grainy homemade videos that are acceptable online may fall short of expectations on larger devices, especially with TiVo now offering a high-definition option. "This may create an incentive for YouTube to find ways to improve the quality of video users post to its site," he added.