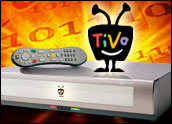 Bidding to stake a claim in the move toward IPTV, TiVo Tuesday launched a series of upgrades meant to enable its digital video recorder (DVR) to be used as a central control panel from which viewers can receive and manage cable and broadband Internet video.
TiVo said its broadband strategy is meant to "put even more control in the hands of consumers" by enabling them to convert Web video to TV-ready format, and to greatly expand the range of viewing options to include download-on-demand movies and other original content.
"For more than 10 years, people have talked about the TV and Internet coming together," said Tom Rogers, President and CEO of TiVo. "The dramatic expansion of video options is being driven by the amount of video now available via the power of broadband distribution. Not a day goes by without an announcement about some studio, network, programmer, or Internet company providing yet even more video content online."
Rogers said the TiVo bundle of services is the "only approach that brings it all — broadcast, cable, broadband — together into a seamless experience for the viewer."
The result, he added, will be a "holistic" viewing experience that enables viewers to watch content on their TV sets "no matter where it comes from."
Five for the Fight
TiVo's broadband push included five separate announcements and upgrades, including a Unified Search feature that will launch next year and that will allow users to search for content both on cable and on the Internet.
TiVo also announced a partnership with agent firm ICM to create a pool of "celebrity Guru Guides" whom subscribers can choose to help them sort through the vast array of content choices. TiVo said the approach will benefit the acting community by enabling a "direct relationship" with viewers through their TiVos.
Another partnership, with One True Media, will enable TiVo users to send home movies to one another through their DVRs for playback on their TV sets.
TiVo also launched a new PC software upgrade, called "autotranscode," which automatically converts PC-formatted video content to TV-ready format.
Finally, TiVo said several more media companies, including CBS Interactive, Forbes and providers of specialized health content, would join its TiVoCast service, which delivers Internet content directly to TiVo boxes.
Pivot Point?
TiVo's approach makes it just the latest company to throw its hat into the ring to become the main content interface for consumers.
A host of alternative approaches have already been developed or are still in the pipeline, with everyone from software companies such as Microsoft — which has a set-top box that can handle multiple sources of video — to PC companies and cable companies angling to become the pivot point for receiving, managing and playing back content from multiple sources, most notably cable TV and the Internet.
It's too early to tell which devices will become the choice of consumers for handling such tasks. While chipmaker Intel and PC makers had once banked on the PC being the focal point of the digital living room, the pendulum seems to have swung back in favor of consumer devices. Microsoft, for instance, recently announced a deal to have IPTV content delivered to users of its Xbox 360 gaming console.
TiVo may have an advantage in its broad established user base, which is already familiar with using the DVR's interface to find programs to record and play back.
The timing of the TiVo moves may also put it in position to be ready for consumers when IPTV starts to enter the mainstream, which may happen soon, Infonetics analyst Jeff Heynen told the E-Commerce Times.
ITPV is still in the "kick the tires" phase, Heynen said. "But there's no question that IPTV is going mainstream."
Still, hurdles remain before consumer adoption is widespread, with the threat of regulation as important to consider as the technological challenges, many of which are being met with technology such as the TiVo rollout and high-end set-top boxes from cable and phone companies that can handle multiple content streams. Content owners are another wild card, with not everyone willing to sign on to the IPTV distribution model.
"It's complex, and depending on how the regulatory and content licensing discussions go, the timeline for IPTV taking off could either slow down or speed up," Heynen said. Infonetics predicts there will be nearly 70 million IPTV subscribers worldwide by 2009, with the first waves of deployment occurring in Europe and Asia.