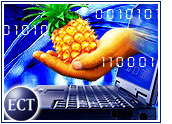 The first wave of online grocery stores is all but gone, but one year after Webvan secured its title as the biggest dot-bomb ever, the online grocery segment is slowly reinventing itself. Brick-and-mortar supermarkets are cooking up some early success with hybrids of the original model.
Indeed, it is a new era for online grocers.
"Webvan pursued a warehouse fulfillment model and failed," Giga Information Group analyst Andrew Bartels told the E-Commerce Times. "Albertson's and Safeway are finding success with an in-store fulfillment model."
More About the Model
Albertson's originally launched its online grocery service in Seattle in November 1999. The company created a Web site and tied the Internet service to existing pricing and inventory systems.
While the Peapods and Webvans of the online grocery world were racing to market with half-baked models, Albertson's took the slow and steady route. The result is that the company matured its model of fulfilling online orders from select regional stores and weathered the storm that drowned the pure-play dot-coms.
"By bringing our brick-and-mortar investment to bear on the online portion of our business, we have evolved our online model to take advantage of our retail grocery expertise, brand recognition and existing infrastructure," said Dennis Bassler, senior vice president of marketing for Albertson's Southern California division.
Partnering for Success
Meanwhile, Safeway is taking a similar approach — with a twist. The company is offering online grocery service through GroceryWorks, an Internet-based home-shopping service that it co-owns with Tesco, a UK food retailer.
"The online grocery business in the U.S. has dramatically changed in a few short years," said Vasant Prabhu, Safeway's president of e-commerce businesses.
Successful online grocery models, noted Prabhu, will come from brick-and-mortar retailers with well-established brands, purchasing power, and existing distribution infrastructures.
New Breed of Shoppers
Just as there is a new breed of online grocers, there also seems to be a new breed of online grocery shoppers.
Webvan attracted fairly young, affluent shoppers seeking time savings, according to Nielsen//NetRatings. The demographic profile for Albertson's and Safeway customers indicates that they, too, are fairly young, but there is a higher percentage of females and a lower percentage of affluent shoppers.
According to Nielsen//NetRatings, there is also a higher concentration of online shoppers on the West Coast, which is the prime target area for both Albertson's and Safeway.
The careful planning of test-market locations is paying off for the new leaders in the online grocery space. Nielsen//NetRatings' statistics for May to June show Albertson's and Safeway had audiences of 576,000 and 463,000 shoppers, respectively.
Holding Their Breath
Still, analysts said that many national grocery chains are holding their collective breath, awaiting the fate of Albertson's and Safeway in a troubled market. And it is going to take more than a new model to remove the stigma from online grocery shopping.
"Online grocery shopping has to be as convenient — if not more convenient — than going to the grocery store," Nielsen//NetRatings e-commerce analyst Dawn Brozek told the E-Commerce Times.
That, she said, means the interface must be user-friendly. Online grocers must offer search engines that streamline product selection and shopping carts that quicken checkout times.
To survive and thrive, analysts also recommend that online grocers not only give customers the ability to select delivery times, but also offer them a product mix that includes nonperishable goods that can be delivered when the customer is away from home.
The Rebirth
The long-term outlook for the online grocery market gives players a worthy prize for which to compete. Forrester predicted that the number of households doing at least part of their food shopping online will grow to more than 14 million in the years ahead. And Jupiter predicted annual sales will top $11 billion within several years.
But many analysts are taking those numbers with a grain of salt, no matter what the model. "We are not seeing the volume of online grocery sales we expected to be seeing," said Bartels. "But it will come back again."
Likewise, Brozek thinks online grocers are here to stay, in one form or another. But brick-and-mortar supermarkets are not going anywhere, either.
"For many reasons," she said, "there are customers that like to shop in the store and will never be converted to online grocery shopping — even if they have online access and that service is available in their area."