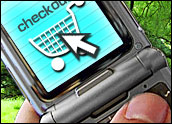 It wasn't long ago that online shopping attracted consumers to the Web. Now, the mobile revolution promises to do the same — providing an "anywhere experience" that boasts the ultimate in convenience. U.S. mobile commerce sales hit US$1.20 billion in 2009 and will grow to $2.42 billion this year, according to Coda research consultancy. This is great news for online retailers that are prepared to meet this rapid revenue increase. Yet another recent survey from Shop.org reveals that despite the growing popularity of mobile commerce, or m-commerce, 62 percent of retailers have either not yet begun or are only in the early stages of planning a mobile strategy.
For online businesses readying to embrace the mobile revolution, the challenge is sustaining existing customer relationships across other mediums. A robust site search solution that provides fast, relevant results can make the difference between an unsatisfying mobile shopping experience and a great one. Two initial points that should be considered before embarking on an m-commerce strategy:
1) Identifying essential mobile site content and features. Preparing an online business for the mobile world means reviewing your existing website to determine which elements your customers absolutely need in the mobile environment.

2) Understanding how customers view the mobile shopping experience. Your m-commerce site should not merely be a downsized version of your regular site. Studying the way your shoppers will navigate to find purchases via a mobile device can help determine what will be different between your environments.
Search Plays a Critical Role
There are several reasons search is one of the most critical features of the mobile Web-browsing experience. Limited screen real estate offers little room for navigating from page to page or product to product. Slow page-loading times on cell networks means pages have to be simple and lightweight. Given that, a search box can be the best gateway to finding products and content on your site.
"Today's mobile users are highly search-dominant," writes Jakob Nielsen, a Web usability expert. Without fast and relevant site search, e-commerce companies moving to a mobile environment will struggle to create an experience that encourages visitors to shop and buy from their phones and other Web-enabled devices. With some of the limitations in mind, here are a few tips for ensuring the site search feature on your mobile site is as agile and friendly as it needs to be:
Give the search box prominent placement on a mobile site. The search box should be even more prominent on your mobile site than the placement on your standard website to ensure it is easy to find and use.
Ensure relevant search results. With less room to show refinement options, an m-commerce site should provide the most relevant results from a keyword search. Scrolling through pages of results or clicking on refinement options requires more time for additional page loads. Relevant search results on the first page eliminates the need for scrolling.
Keep it light on images. Pictures should be small to not slow down page loads. The mobile screen doesn't allow for lengthy product descriptions or the many site navigation links that you would find on normal search results pages.
Give your mobile site an "app" feel. Formatting your m-commerce site to present itself like an app the user has downloaded, as opposed to the traditional website feel, can be a great way to draw consumers in and keep them engaged.
Include easy access to product reviews. Consumers often use mobile devices when they are shopping in-store, and may want to access reviews on the spot. User reviews are a great way to give visitors more detail when making a purchasing decision.
Let customers check local availability from search results. Provide a link that lets mobile shoppers enter their ZIP code and see what nearby locations have items in stock. Consider taking it a step further to allow users to place items on hold, to be picked up at a later time.
Add another search box at the bottom of the page. This way, if users get to the bottom of the results page and want to conduct another search, they can do so easily without having to scroll back to the top.
Account for misspellings. Just as you should with your e-commerce site, avoid "no results" pages, and make sure your site search factors in typos, as they'll be more common on mobile devices with small keypads or touch screens.
Include large links and spacing. To accommodate users of touchscreen phones, links should be easy to click on and spaced appropriately. Otherwise, it can be difficult for mobile users to select the correct link.
Early Action, Early Rewards
As more consumers adopt mobile devices, they will quickly embrace the benefits of using the Web for making purchases on the go. This creates a huge opportunity and potential new revenue stream for many e-commerce businesses.
The challenge is to embrace the m-commerce trend early — and do so paying close attention to the consumer experience. This means embarking on a well-thought-out strategy that not only takes into consideration customer buying behavior, but also focuses on creating a cohesive Web-to-mobile experience that puts site search at the forefront.
E-commerce companies that follow this advice will be well prepared to reap the rewards that the m-commerce revolution promises.
---
Shaun Ryan
is CEO of
SLI Systems
.