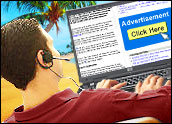 Shopping continues to shift to the Web. E-commerce experienced a robust 10 percent year-over-year growth in the second quarter, while retail store sales increased just 1 percent, according to new research from MasterCard SpendingPulse. With all this growth in e-commerce, retailers are focusing their efforts on better online merchandising, cross-channel integration and personalization to fine tune their sites for better conversion rates.
In addition, many of the best e-commerce retailers are taking another step: driving additional revenue by leveraging their site traffic with custom online advertising programs that are generating dramatic increases in profitability.
There are e-commerce retailers who are still apprehensive about adding advertising to their sites. The keys to overcoming this apprehension are understanding how consumers research brands online, and identifying the right third-party partner to help you monetize your site in a way that will enhance the consumer experience and increase your conversion rates.
Step 1: Understand How Consumers Research Brands Online
By 2014, 53 percent of total retail sales will be influenced by the Web, Forrester has predicted. Consumers use e-commerce sites to conduct their product research before they go to the store — and they are looking for more than just product information. Consumers want to know about what's new and hot, and where to find coupons and free samples. They want to read articles, get new ideas, peruse product reviews, watch videos and see the latest promotions.
For most consumers who visit a retail website, buying online is not the objective. Rather, their goal is to educate themselves prior to their store shopping trip. Proof of this can be found in the conversion rates of most e-commerce websites, many of which are less than 5 percent. That means 95 percent of the people visiting the site are there simply for information — not to buy online.
While customers are in the information-gathering mode is the perfect time for advertisers to deliver their brand messages.
Step 2: Choose Your Path to Monetization
Retailers have two choices when adding advertising to their e-commerce site.
They can decide to simply plug in banner ads from one of a myriad of major ad networks (e.g., Yahoo, DoubleClick, etc.), but this choice is sub-optimal. Many retailers have found that they lose control of their site experience. Often, non-relevant advertising from brands that retailers would rather not associate with may appear on their site (e.g., flashing ads for online universities). In addition, the revenue generated from standard ad networks is often not compelling. Cost per thousand (CPM) — the "price" you charge advertisers for your ad space — generally averages less than US$1 from ad networks. After splitting that modest revenue, the retailer is often left with very little to show for its advertising effort.
A much better option is to partner with a media company that can help you execute advertising in a more controlled, customized fashion. This means you get to select the list of advertisers that you are comfortable publishing on your site. You retain control over which advertisers have access to your customers and which ads appear on your site.
With custom advertising programs, retailers enjoy full control over where the ads appear on their sites and the complete flexibility to serve house ads as needed during critical sales periods. You can also add revenue-generating sponsored content (e.g., articles and videos "brought to you by") that deeply engage consumers, resulting in more time spent on your site. Importantly, approaching monetization from a custom perspective will generate significantly higher CPMs — $5 to $25 — far greater than those generated through ad networks.
Step 3: Identify the Right Third-Party Media Expert
The vast majority of e-commerce sites are not set up to execute advertising. They lack a media sales force, IAB-standard ad inventory, ad-serving technology, metrics-tracking technology, and ad-savvy billing and collections processes. Many of the retailers who have attempted to execute an online ad program internally have failed due to their limited media-industry knowledge, as well as the expense of hiring a large staff to manage the program.
Retailers need to focus on their core business-selling product. A knowledgeable third-party advertising expert needs to be brought on board to plan and execute your ad program so you incur no incremental headcount or costs. Choose your partner carefully. A good third-party partner will be a qualified online media expert and will operate on a pay-for-performance, revenue-share basis.
Step 4: Become an Online Advertising Publisher
Once you've made your selection, your partner will help you create a sales pitch for media agencies that buy online ad space for their brand clients. Media agencies are looking for a specific set of deliverables from any publisher. IAB-standard banner ad sizes, video, above-the-fold ad locations, and links to brands' social networking and mobile efforts are important components that will get you "in the consideration set" to attract national advertising dollars. The sites that are slow to adopt these key features or are timid about offering premium ad space and interactivity to brands will not garner significant ad revenue. As the saying goes, "To the bold go the spoils."
Before you get nervous about shrinking conversion rates, consider the facts. Incorporating custom advertising on your site will not decrease your conversion rates; in fact, it can raise them — if you do it right. Nielsen studies fielded to determine the impact of adding ad campaigns to retail sites have clearly shown incremental sales volume lift over baseline. In addition, time-spent-on-site metrics have increased, because the consumer was being educated by the relevant ads, content and videos that appeared on the site. Customers who spend more time on your site are more engaged — and as a consequence, they spend more money.
Join the ranks of other leading online retailers as they innovate their customers' online experience, and enjoy the significant incremental profit generated by adding customized advertising to your site.
---
Greg Murtagh
is founder and CEO of
Triad Digital Media
.