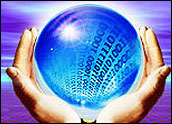 The days of huge consumer catalogs are numbered; a few years ago, Sears ceased publication of its famous catalog, and many other firms have followed suit.
Fortunately, companies that traditionally sold their wares in this way faced a relatively easy transition to the Web. After all, the move basically involves converting a print catalog to electronic format and posting it to the Web, with online ordering enabled.
There has been no shortage of software designed to transfer catalogs to the Web. But as e-commerce has matured and the market has evolved, leaders have begun to emerge. This process has been accelerated by the collapse of many software firms in the post-boom era.
"Companies are taking a long-term view now and favoring those vendors with proven track records," Meta Group analyst Michael Barnes told the E-Commerce Times. "They want to know their software vendor is going to be there when they pick up the phone."
Big Blue and Easy
There are still a multitude of options, including ultra-low-cost plug-and-play products.
But Barnes noted that many catalog firms did not rush to get online, giving them time to evaluate their options. Now that they finally are venturing into e-commerce waters, many are choosing to invest in rock-solid systems that will provide their customers with a satisfying shopping experience — and that will be in business for the long haul.
One major benefactor of that trend has been IBM. A recent IDC report found that sales of Big Blue's WebSphere e-commerce platform grew 258 percent last year.
"Catalog companies are betting their businesses on this decision," Bart Lautenbach, director of WebSphere commerce at IBM, told the E-Commerce Times. "They're going to look for the most solid company to work with in that space."
Puzzle Pieces
WebSphere has thrived, Lautenbach added, because IBM understands the seasonal ups and downs of the catalog industry.
"One day you might get 10 visitors to your site, and then a month later you might get 10,000," he said. "At the same time, an item in the catalog might sell for US$30 in November, $20 the week before Christmas and $10 the week after Christmas. Catalogs need to be constantly updated and made relevant to the customers."
Businesses also want to know that their catalog software can be integrated into existing computer networks and eventually tied to suppliers and other third parties.
"That's where the benefits of the Web become apparent," Lautenbach said. "When they can have a customer place the order directly into their system and never have it touched by a customer service rep, they're stretching the Internet to its limits."
Track Record
WebSphere customers include Office Depot, Staples and Panasonic, all of which use the software for both business-to-consumer and business-to-business sales.
Among IBM's customers in the catalog industry are Lillian Vernon and Boston Proper. Lillian Vernon has 6,000 catalog items listed online, three times the number it listed before it switched to WebSphere. That switch helped the company grow online sales 37 percent in 2001.
Meanwhile, Boston Proper, an upscale fashion site for women, said it saw a 50 percent increase in sales over the same time period.
"The last thing you want is for a catalog customer to feel cheated by the online experience," Lautenbach said.
Indeed, catalogs' online counterparts are less likely than ever before to fall short as software upgrades make the transition from paper to bits even smoother.
And when online catalogs finally surpass their print predecessors, they likely will be powered by the king of catalog software — whether that is WebSphere or an as-yet-unknown challenger.