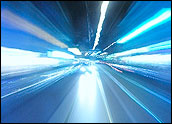 The great Internet TV race is on, and the field is crowded — and getting more crowded all the time. The biggest names in U.S. TV broadcasting want to make sure they stay in the middle of things.
Part 1 of this two-part series discusses the efforts of some industry giants — CBS, for example — to build multichannel digital content delivery systems, build up digital-programming portfolios, forge alliances and shift from content-driven to audience-driven supply models.
Cable TV broadcasters such as Cablevision, Comcast and Time Warner got an early jump on their broadcast TV and telco counterparts, but with the ongoing development of triple play and quad play digital service packages, telcos such as Verizon and Sprint are pushing toward the front of the pack.
Whether the heat now being generated by IPTV can be maintained depends on the performance of still-evolving digital services delivery platforms, however. They have to seamlessly manage a huge variety and amount — and it's still growing rapidly — of digital video content on offer. Then they must navigate through a maze of networks — wired, mobile IP, 3G and 4G cellular — to reach a broad range of stationary and portable media devices that utilize a variety of proprietary and open standard formats.
Cable Companies Out Front
Comcast's recent experience illustrates how a strategy built around digital media convergence can pay off for cable broadcasters. The cable giant's first quarter profit rose 80 percent — US$466 million — year over year, although a one-time windfall inflated that figure by some $300 million. Things are looking good going forward, too. Management reported that demand for the company's triple play bundle of Web, TV and calling services continues strong.
"Comcast's strategy is to be the company that delivers entertainment, information and media on multiple platforms. Customers have used our video-on-demand (VOD) service, which lets them watch programs whenever they want, more than four billion times since it launched in 2002," Jenni Moyer, Comcast's senior director of corporate communications, told the E-Commerce Times.
The Fan, Comcast's broadband video player, is proving a successful enhancement to the TV experience as well. It is generating more than 80 million video views per month, Moyer added.
Playing the Quad-Play Pivot
Comcast was quick to get involved in the DVR (digital video recorder) market by partnering with new technology providers such as TiVo, as well as by producing its own brand of DVR.
"Our DVR is integrated with our digital cable service, which means that in addition to recording their favorite programs, customers have hundreds of channels to watch, and they can choose from more than 9,000 video on demand titles each month– many of which are not available on traditional, linear television," Moyer pointed out. "For people who enjoy the TiVo experience, we'll begin initial market rollouts of a new, integrated TiVo-branded DVR service that will be available on our current digital cable set-top boxes later this year."
Speaking more broadly, Comcast is focused on developing applications built to take advantage of quad-play digital delivery, according to Moyer. "These applications will enable customers to receive television content, surf the Internet, make phone calls, and check e-mail or voice mail on multiple devices — either at home or away.
"We're piloting a new wireless service called 'Pivot' as part of a joint venture with Sprint that lets customers take their integrated home entertainment experience on the go," noted Moyer. "Through a new cobranded wireless device, customers will be able to access TV content, music, video clips and games; access content on home DVRs and program their DVRs; use a single voice mailbox for home and wireless; surf the Internet using Comcast's Internet portal; and e-mail with Comcast e-mail addresses."
The Hollywood Set
A number of film and tech industry superstars were among the earliest innovators in the digital video technology field — George Lucas' Industrial Light & Magic and Steve Jobs'Pixar notable among them.
ClickStar is now carrying the IPTV flame as well. Backed by Morgan Freeman's Revelations Entertainment and Intel, the company is one of a growing number of new IPTV market entrants rocking the film and TV industry boat.
Having launched in December, ClickStar is digitally distributing first-release films by top industry names, as well as exclusive educational and documentary programming, before they hit the DVD and cable markets.
A growing number of major studios, cable and TV production companies, including Sony Pictures Home Entertainment, Universal Studios Home Entertainment and Warner Bros. Home Entertainment, have agreed to provide films and programming in what might be viewed at least as partial acknowledgment that ClickStar has the right idea.
Changing Tech, Changing Business
"The traditional film development and distribution model continues to evolve from its original incarnation," Dan Graham, ClickStar's chief operating officer, told the E-Commerce Times.
"The fact of the matter is, many films never get theatrical distribution or ever get made because they don't fit into the current business model paradigm," he explained. "At ClickStar, we're finding projects like 'Lonely Hearts' and 'Ten Items or Less,' and bringing these films to consumers on our service while they are still in theaters. This extends ClickStar's philosophy of offering consumers the choice to view content when and where they want it."
ClickStar is banking on the increasingly probable outcome that most video content — movies included — will be viewed via broadband connections, according to Graham. "It is also our belief that when consumers have the ultimate entertainment choices, finding what you want will be akin to finding a needle in a haystack."
The Machines – and People – Delivering the Content
It's the programmers and engineers working away at tech companies, cable and TV networks, telcos and equipment manufacturers who are collectively driving digital media convergence forward.
A loose but resilient web of young entrepreneurial companies are playing an outsized role in the process. While companies such asSling Media are offering new digital TV experiences through TV enhancement equipment and streaming wired and wireless IP services, companies such asExtend Media continue to work on increasingly powerful and flexible delivery platforms for digital content services.
ClickStar and Showtime are using Extend Media's OpenCase digital content delivery platform to manage their growing range of IPTV content, and HP is using it, along with HP's own Video Merchant Service, to help build Wal-Mart's video download service.
New Business Models
However, OpenCase is not simply an Internet TV distribution technology. "The difference may seem like semantics, but it's a critical one," Extend Media Chief Marketing Officer Chris Gardner pointed out. "Our software doesn't simply distribute or push out video: It allows content and rights holders to control, secure, manage and, most importantly, monetize their broadband video assets. Because monetization equals making money, that's a key feature set for Internet TV deployments today — whether they make money via direct to own sales, rental, subscription or ad-supported models."
OpenCase has evolved over time as video delivery has become more and more complex, Gardner explained. "Today, the product threads together all the links in the Internet video value chain — including metadata management, DRM, encoding, support for multiple commerce models, publishing and distribution — as a comprehensive, end-to-end solution."
Such capabilities will be critical to all the players committing to delivering IPTV and distributing digital content over the Web and wireless channels — and IPTV and multichannel digital content services distributors are trying a number of ways to generate revenues and profits.
"There continue to be many business models to support the distribution and consumption of video content on the Web, including paid and ad-supported," ClickStar's Graham pointed out. "Consumers' willingness to pay for premium content continues to increase, and ClickStar believes — unlike TV and short form video content — movies should be viewed in their purest form without commercial interruption."
A Case of Symbiotic Mutualism?
While threatening established TV networks, cable broadcasters and film studios, the emergence of IPTV and digital video also opens up a new world of opportunity. With more screens large and small popping up all over, people are watching more TV, films and advertising to the point where the danger may lie in oversaturation.
"Slingbox brings more eyeballs to TV programming because consumers do watch more TV if they own a Slingbox," Sling Media's Jaquet noted.
"In addition, it makes local affiliate advertising that much more compelling, because when consumers travel out of their home area, they are still watching their home TV programming and all the advertising that comes with it," he added.
"The battleground is less telco vs. MSOs (multi-cable systems operators), or even telco/MSOs against media and entertainment companies, than a sea change where open IP networks are taking over what was formerly requiring proprietary networks," commented Extend Media's Gardner.
"Content owners and rights holders, as well as retailers, want to carve out a role that reaches the consumer directly without having to go through either Apple (paid) or Google (ad-supported) — the two opposing ends of the continuum in the industry right now. As an arms merchant, Extend is delighted by whatever directions the industry takes," Gardner remarked, "because we'll help with them all. The key to this will be flexibility both in commerce models and in deployment options."