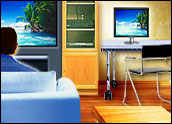 There's a new wave of changes headed for the TV and film industries: Television viewers can choose what they watch, when and how they view programs and — with the advent of wireless mobile broadband and smaller viewing screens — where they catch up on their favorite shows. That's just the beginning.
The interactivity of the Internet, the emergence of DVR (digital video recorder) technologies, easier access to wired and wireless broadband services, and the development of digital network distribution formats for streaming multimedia content are forces that are combining to provide viewers with more choice.
Entertainment executives aware of these trends are wasting no time; they are outlining ways to change the nature of their TV content. Ditto for the business models that broadcast and cable network TV companies have been able to rely on for so long. To put it mildly, the TV and film industries are in the midst of a major shakeup.
This two-part series will examine how digital content distribution is changing the nature of the television industry. It will also look at some of the challenges facing established players and new technologically driven market entrants, as well as the state of the market as the evolution of triple- and quad-play media services continues.
The Digital Peacock
Established broadcast TV networks have plans in the works to develop the first IPTV (Internet protocol television) networks.
Last month,CBS announced the imminent launch of the CBS Interactive Audience Network: a free, ad-supported network that will digitally deliver CBS programming and third-party content across digital media channels.
"Today marks an important step in our strategy to distribute content broadly across the online interactive landscape on an open, nonexclusive basis," said Leslie Moonves, president and CEO of the CBS Corporation.
Moonves' comments reflect the fundamental changes CBS officials see as necessary for the nation's oldest TV network to maintain its prominent industry position.
"CBS's ability to partner with leading next-generation interactive platforms is the best way for CBS to evolve from a content company to an audience company," echoed CBS Interactive president Quincy Smith.
IPTV is in its early stages, and viewers will have a pivotal influence on its development, Smith pointed out.
"It's really all about [users], and in building the CBS Interactive Audience Network, we are bringing our content to each unique platform of their choice. In remaining open to all online distributors and community builders — big and small — we can learn more about our existing audience, be exposed to new ones, and flexibly cater to their changing consumption habits," he added.
In a Tizzy
There is little doubt that the emergence of interactive Internet and mobile TV offerings poses a threat for established companies and new market entrants all along the respective industries' value chains. Still, there are huge opportunities as well.
Equipment manufacturers, distribution partners, content producers, TV networks and film studios are all struggling and experimenting with ways to tap into the rapidly growing Internet TV and film markets and get a handle on how viewers can, and want, to make use of them.
Viewers themselves are struggling to come to grips with how to use set-top boxes and portable devices, and figure out which content and services are accessible and affordable.
"The idea of watching appointment TV is being disrupted by the DVR, which has taken the 'water cooler' chatter out of the mix. Consumers now watch what they want to watch, when they want to watch it,"Sling Media's Brian Jaquet told the E-Commerce Times.
"Technologies like Slingbox take that a step further by giving consumers the ability to watch TV not only when they want to, but also wherever they want to," he added.
The interactive nature of IPTV, as well as the unsettled state of devices, formats and standards, stands in stark contrast to the passive nature of traditional TV viewing. Social networking sites such as YouTube have demonstrated the potential for interactivity to attract viewers and drive network traffic. Companies such as Sling Media are developing ways to incorporate user interaction into IPTV, as well as Internet and mobile video channels.
"More and more people are watching a program, see something that is funny, amazing, etc., and want to share it," Jaquet said. "And there is technology that we are working on that will enable consumers to share content almost instantly using the Slingbox and the Internet connection it's tied to. We have a new technology called 'Clip+Sling' that will let Slingbox customers instantly clip content from a show and share it with friends, relatives and the community at large."
Technological Drivers
"The key technological drivers pushing IPTV viability are high-speed bandwidth, powerful hardware, evolved codecs and DRM," Chris Gardner, chief marketing officer forExtend Media, told the E-Commerce Times. "That said, delivering on this promise for mass consumer adoption is still quite complex."
There are numerous technical hurdles in the path toward widespread IPTV adoption, including the variety of consumer software and hardware options, the rapid proliferation of viewing devices, and the need to establish links between multiple vendors, Gardner continued.
"But the major challenge is really about defining a business model that works. That's why just about every media and entertainment company is experimenting with Internet TV-related applications," he said.
The market is uncertain which models for delivery will prove profitable and sustainable: download, rental, subscriptions, ad-supported, or some combination of the above, Gardner added.
"This has created the need for companies like Extend that can supply and/or stitch together the many moving parts required to deliver these services," he explained. "However, it's emphatically clear that IP-based distribution — instead of proprietary networks via satellite or cable — is now a viable video distribution mechanism with the potential to eclipse all other methods in the future."
Indicative of the potential scope and scale of the IPTV marketplace, a wide range of businesses along the TV and film industry value chain are using Extend Media's OpenCase digital content services delivery platform to manage their fledgling IPTV offerings, including ClickStar, Showtime, HP and even Wal-Mart — to build the retail giant's VMS (video merchant service).
"Home video sales represent a (US)$30 billion market. Retailers are scrambling to assure that revenue streams from established media formats such as DVD are augmented by new, broadband-based revenue opportunities as we transition to digital delivery and consumption," Gardner noted. "But there's more than a few technology 'gotchas' that have to be addressed before brick-and-mortar retailers can effectively monetize today's new digital entertainment types."
Refashioning and Re-engineering
Refashioning and re-engineering themselves to deliver programming to fragmenting mass markets that are getting comfortable with various new media channels has not only led established players to ally themselves with numerous new content and distribution partners — technology providers in particular — but also to rethink their business models and devise new ones suited to the nature of digital channels.
The CBS Interactive Network's long list of new content deals and online distribution partners reads like its version of a "Who's Who?" in the emerging IPTV space. Included are AOL, Microsoft, Cnet Networks, Comcast, Joost, Bebo, Brightcove, Netvibes, Sling Media and Veoh. CBS previously negotiated content distribution arrangements with Yahoo, Apple's iTunes, Microsoft's Xbox, Amazon's UnBox and others.
Mirroring its online strategy, CBS Mobile has concluded direct agreements with the three largest U.S. wireless carriers — AT&T/Cingular, Verizon Wireless and Sprint — as well as leading next-generation platforms such as Qualcomm's MediaFLO.
Along with the challenges established broadcast TV networks are facing come vast opportunities. Though there will undoubtedly be casualties in the competition to thrive in the IPTV world, the TV networks' experiences will be invaluable.
"Viewers have more choice and flexibility than ever before in how and when they watch their favorite television programs. CBS has made some of its most popular entertainment, news and sports content available to users online and on mobile," CBS's Shannon Jacobs told the E-Commerce Times.
"In doing so, much of our content is readily available to viewers on the go or at the office. We have offered out clients new advertising opportunities and have exposed our programming to new audiences," she concluded.