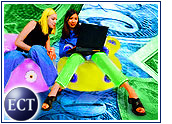 Experts have a message for undecided shoppers who think a single comparison Web site will give them all the information they need to choose from among a dizzying array of options: Keep looking.
Because of comparison sites' various agendas — not to mention wide variations in their ability to deliver on promises — consumers should view such sites as just another stop along the road to a truly informed decision.
"There's really no such thing as one-stop comparison shopping," GartnerG2 research director Geri Spieler told the E-Commerce Times.
A number of sites — with names like MySimon.com, PricingCentral.com and CoolShopping.com — offer reviews, pricing and other information for a range of product categories, from home electronics and computer gear to CDs and clothing.
Hidden Motives
While most comparison-shopping sites are well-intentioned and perform a needed service, experts say they often are not truly comprehensive in terms of product presentation. Because they are businesses, many have forged behind-the-scenes arrangements and agreements that prevent them from being purely unbiased and all-encompassing.
According to Spieler, even sites that promise to scour the entire Web for product bargains use search engines that are subject to special-placement and other sponsor considerations, just like most search portals.
Specialized sites also have issues that consumers must keep in mind. Spieler pointed to BabyCenter.com, among the most popular sites visited by expectant parents, as one example.
While BabyCenter gets high marks for its helpful content pages and interactive community features, users need to be aware that the site is owned by a corporate entity — Johnson & Johnson — that makes infant-oriented products. Site visitors should keep this fact in mind as they look at product comparisons and reviews, Spieler said.
Not Always Unbiased
In addition, comparison sites sometimes have advertising arrangements that are designed to give prominent play to certain manufacturers. And Spieler noted that the comment portions of these sites — where ostensibly independent consumers offer feedback and reviews of products they have purchased — can be subject to manipulation.
Similarly, user ratings of merchants doing business on a site, which are often used by auction companies like eBay, may not always be reliable.
"These sites are subject to whoever is bringing them the information," Spieler said. "There is only so much information they can have."
Even if a site gives users the best price, she said, it may fall short when it comes to providing other information — such as warranty, service and return info — that consumers need to make optimal purchase decisions.
In addition, Spieler said, some sites inadvertently could lead price-oriented consumers to purchase cheap knockoffs of designer clothing, for example, or pirated versions of CDs.
Do Your Research
But these caveats do not mean consumers should ignore comparison sites; instead, they should approach them as just one part of the buying research process.
Spieler recommended checking at least two comparison sites, among other sources. Government representatives who deal with consumer issues also urge shoppers to take advantage of the growing number of ways to find out about products.
Lemuel Dowdy, a senior staff attorney with the Federal Trade Commission, said consumers have a range of options — starting with the old-fashioned Sunday newspaper — and need not be hemmed in by the offerings of any single comparison site.
"They can cross-check the information they get at a comparison shopping site by going to manufacturer Web sites and store sites to confirm what they found," Dowdy told the E-Commerce Times.
Don't Forget About Sales
Dowdy noted that store and manufacturer sites often beat comparison sites when it comes to finding updated information about product features and pricing deals.
"Sales happen all the time," he added. "Do your own check to make sure your decision is based on the latest information."
For items like used cars, Dowdy cautioned, prices listed on comparison sites may not reflect the true final cost of the product. That cost often is not determined until the buyer visits the dealer's lot and a bottom-line price is negotiated, accounting for such issues as service and optional equipment.